In celebrating the "Irving Penn and Issey Miyake: Visual Dialogue" exhibition starting September 16, leading creators from all walks of art speak to us of their fascination with Irving Penn photos.
Delicate and Powerful Expression like Mincho-tai Font
──What made you a fan of Irving Penn?

I love old Vogue photographs and the first photo collection I ever bought was a collection of Irving Penn photos. I think he is the person that has had the greatest influence on me. Richard Avedon is frequently cited as a photographer of the same generation but personally, whereas Avedon is a powerful and tough Gothic font, Penn has an image of being a delicate and elegant Mincho-tai font. When starting film, I would ask myself, "How can I shoot film like Penn's photos?" I made many attempts but it was nearly impossible to shoot similar cuts (laugh.)

──What is the charm of Penn photographs?

First, his photos have an interesting composition and a powerful impact that you will never forget once seen. Call it his ability to pick out split second moments, call it his determination...even when working with Issey-san, he knows every detail and context of the clothing and takes intense photos with a firm grip on every single point he wants to show. I have heard that Mr. Penn started working with Issey-san when he was around 70 years old and that is very understandable. Mr. Penn had worked on the forefront of photography from an early age and once past 50, his pace of work started slowing down and naturally, the number of photographs. As he entered his later years, he took on a new and interesting challenge. I think Issey-san's clothes had some influence on this decision. Imagine how fun it would be to be presented with such exciting clothing and figuring out how you would shoot them. Looking at their work, I can feel with my skin the joy and excitement that it contained.

──Please tell us about your recent work.

I am participating in the "311 Sendai Short Film Production Project 'Ashita (Tomorrow)'", which is a project of the "Sendai Short Film Festival 2011" to be held at Sendai Mediatheque on the 17th and 18th of September. The project will feature 3 minute 11 second films shot by 40 directors. I thought hard for about three months and finished a piece titled "Ashita (Tomorrow.)" I hope you will come see it.
(interviewer: Keiko Kamijo)

Hiroyuki Nakano
Film director
Known for his musical film expression, Nakano is the mastermind behind many music videos of famous Japanese and international artists. His film, "SF Samurai Fiction" was the Grand Prix winner of the Puchon International Fantastic Film Festival and his short film, "Iron" won the International Young Critics' Award at the Cannes International Film Festival. "The Beautiful Planet" the newest work by Nakano introducing viewers to the beauty of our planet Earth is now on release.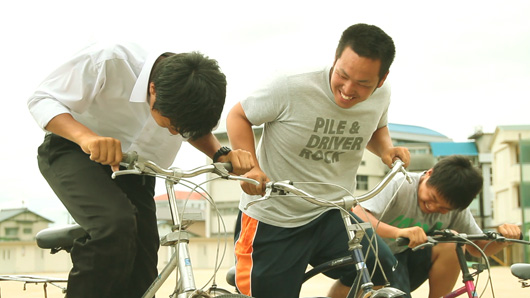 September 22, 2011 1:21 PM|Design,Irving Penn and Issey Miyake: Visual Dialogue,Photograph