In celebrating the "Irving Penn and Issey Miyake: Visual Dialogue" exhibition starting September 16, leading creators from all walks of art speak to us of their fascination with Irving Penn photos.
Inimitable Photographs and Clothing like Music by Thelonious Monk
──What are your thoughts after seeing the "Irving Penn and Issey Miyake: Visual Dialogue" Exhibition?

Peter Barakan (PB):
Seeing this exhibition it was evident that Irving Penn was a photographer who set up his shots in enormous detail in order to capture the images he had in his mind, as opposed to someone like Henri Cartier-Bresson, for example, who was a genius at capturing the 'definitive moment.'. You feel it especially in the large blow-ups; he must have spent an enormous amount of time on makeup and lighting. But although his photos are calculated in every detail, it doesn't look that way at all. They speak directly to the senses. The same kind of thing happens with musicians too. Even people with a genius for improvisation often practice for hours every day, and moving performances are the result of a lot of sheer hard work that we don't think about when listening to the music. In fact, if you do become aware of that effort it can really turn you off. With Irving Penn's work it looks very natural at first glance, but when you look carefully the depth in the work reveals itself. And in addition to the incredible quality of Penn's photos, Miyake Issey's clothes possess a unique aesthetic that is just...it leaves you speechless.

── I agree. I imagine that Miyake-san's clothes struck a chord with Penn as well.

PB: No doubt. These photos have such an impact that you wonder if there could possibly be another photographer who could interpret Issey's designs so well. I'm basically a music person, but I think that in the same way that Issey-san's work is literally inimitable, in music, for example, you have people like the jazz pianist Thelonious Monk. He has all these little traits that are uniquely his, and you know it's him as soon as you've heard a few notes. That's why only musicians who truly understand his nature can play with him. I think the same applies for Miyake Issey's clothes. It would be really hard for someone that doesn't have a deep understanding of his work to create photographic art out of Issey's clothes. When you see Irving Penn's photos you can tell that he understood.

── You did Miyake-san's voice in the animation for this exhibition. What were your thoughts after performing the dialogue between Penn and Miyake-san?

PB: I really felt, in a good sense, the distance between the two. Irving Penn never once attended one of Issey's fashion shows, and Issey never once sat in on a photo session. It seems both were conscious of maintaining that distance. I can relate to that.
If it weren't for that short animated film on show at the exhibition, I'm sure the process in which those posters were created would be something most people never even thought about. I thought Midori Kitamura's idea to focus on clarifying that process was a very good one. At any rate, I really think this exhibition is a masterpiece. There's nothing elaborate; the presentation is simple but powerful and it is an exhibition that people will want to go back to several times.

── Thank you. Lastly, please tell us about your recent work.

PB: A column that I wrote for the Japanese version of Playboy magazine for about 6 years has been published as a book, "Peter Barakan Ongaku Nikki (musings on music and radio....)". If you can read Japanese, please give it a read!
(interviewer: Keiko Kamijo)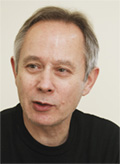 Peter Barakan
Broadcaster
Born in London in 1951. Graduated Japanese department of School of Oriental and African Studies, University of London, in 1973, and has been living in Tokyo since 1974. Has worked in broadcasting since 1980, with particular emphasis on introducing a wide variety of music from different parts of the world to a public that is often force-fed only what is commercially convenient for large corporations.
Currently hosts a weekly free-form radio programme on NHK-FM, and a weekday morning programme for Tokyo area commercial station Inter FM, in addition to the Japanese broadcast of the US news magazine show 60 Minutes. Also co-hosts a weekly talk show "Begin Japanology" in English for public broadcaster NHK's foreign satellite service NHK World, introducing different aspects of Japanese culture to an international audience. Has written several books including a beginner's guide to soul music, and and a book explaining some of the subtleties of rock lyrics for Japanese readers.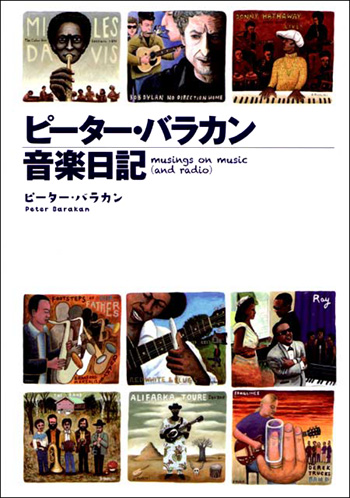 December 22, 2011 2:11 PM|Irving Penn and Issey Miyake: Visual Dialogue,Photograph