In celebrating the "Irving Penn and Issey Miyake: Visual Dialogue" exhibition starting September 16, leading creators from all walks of art speak to us of their fascination with Irving Penn photos.
Penn taught me of the pursuit for simplicity
──You were an assistant at Mr. Penn's studio but what drove you to go there in the first place?

Michael Thompson (from hereon Thompson):
I discovered Mr. Penn's photos while as a student at photography school and I was stunned by the overwhelming simplicity and power of his photos. Mr. Penn's photos contain many messages within its simple image. I was inspired by these photos that carried such an enormous impact.
In 1987, I came out from California to New York to visit Mr. Penn's studio. At a normal studio, you'd think that the assistant would come out at the first interview right? But when I knocked on his door, Mr. Penn answered the door himself. When I found out I'd been hired, I thought I was dreaming. After all, Mr. Penn was a famous top photographer.

──Did Penn have any influence on you?

Thompson: Of course, lots (laugh). Mr. Penn, in his pursuit for simplicity, would start over again and again until he was satisfied. No matter how much work he had on his hands, he developed his prints himself. From that, I learned never to give up until satisfied. He was also a man who placed importance on balancing work with private time. He started at the same time and finished at the same time every day. He was also a very devoted family man.

──What do you focus on when taking photos?

Thompson: How much I can convey through a single photo. A single photo will take a person's heart to a different place. Even among them, a good photo will slip its way inside a person's heart and stir up emotions. The important thing then is that the photo be simple. I believe that a simple photo will communicate the deeper message with greater straightness.

──Are there any memorable words spoken to you by Mr. Penn?

Thompson: I remember a conversation with him on the last day at his studio before setting off on my own. He said, "Michael, do you know the way to keep photo expenses low? Creating the work, paying money to your assistants, renting equipment; all of this takes money. You will have to take on a lot of unwanted work in order to pay those costs. But, if you try not to spend too much regularly, you can choose only the jobs you like and lead a happy and creative life." This is very important and I distinctly remember these words because they very well expressed Mr. Penn who led a life without all the glamour.

──Please tell us about your recent work.

Thompson: In 1993, I took pictures of models painted in blue paint and I'd wanted to challenge this again, only this time using a powerful red. Later on, I had just one day to take photos and so a photo session took place using red paint. The result is the "RED NUDE" photo collection. Don't you think it's interesting how the body is portrayed like an abstract object? At the same time, I published the "PORTRAITS" collection. This was created through photos I had taken and saved over the past 20 years. Here, readers will find celebrities from around the world but they will see an unexpected side of them as well. Please take a look.
(interviewer: Keiko Kamijo)

Michael Thompson
Photographer
Born and raised in Washington State, Michael Thompson honed his vision behind the lens at his father's portrait studio.
After earning a degree from the Brooks Institute of Photography, he moved to New York City to assist legendary fashion photographer Irving Penn.
Since then, Thompson has shot models and celebrities for prestigious fashion magazines as well as fregrance and beauty advertising campaigns.
Thompson lives in Oregon with his wife Kelly and their two children, Ruby and Sean.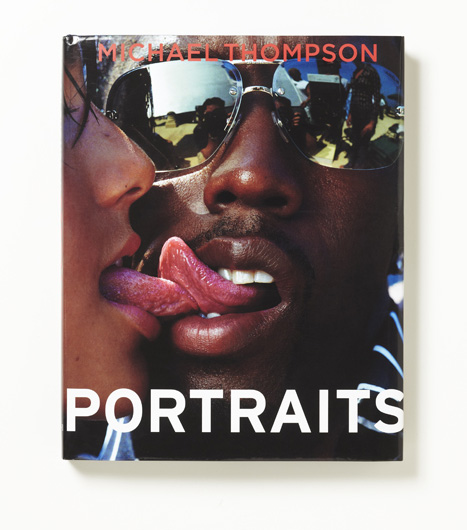 February 24, 2012 11:35 AM|Irving Penn and Issey Miyake: Visual Dialogue,Photograph