In celebrating the "Irving Penn and Issey Miyake: Visual Dialogue" exhibition starting September 16, leading creators from all walks of art speak to us of their fascination with Irving Penn photos.
An exhibition visualizing the dialogue between two talents
── Tell us about your encounter with Mr. Penn's photographs.

Britt Salvesen (from hereon Salvesen):
I believe this was in 1987. I saw a retrospective exhibition of Penn's works that had started on a world tour from New York's MoMA while it was in London. Several years later, during the 90s, I worked at the Art Institute of Chicago when they received the archive of Penn's works. Here, I had the opportunity to view the retrospective organized by Colin Westerbeck in 1997.

── What do you think of Mr. Penn's photographs?

Salvesen: I think his pictures occupy a very important position in the history of photography. The medium of photography is used for a wide range of purposes - fashion, still-life pictures, literature, private works... He created his works across all of these genres, and elevated them to the level of art. I think his works carry an extremely important message for our era, because they focus on the craft of the object as well as the impact of the image.

── What are your thoughts on this exhibition?

Salvesen: Even by the standards of relationships between artists, the dialogue between these two was very unique. They influenced each other with the most subjective parts of their personalities, like two outstanding tennis players carefully observing and returning their opponent's shots, and pushing each other to greater achievements over time. This exhibition allowed me to tangibly experience their mutually respectful relationship.

── What have you learned from Penn's photographs?

Salvesen: I have never met Penn. However, as a young researcher, Penn taught me many things through his photographs. A cigarette butt or trash dropped on the street may suddenly turn into something beautiful - that, to me, was an amazing discovery.

── If you could own one of Penn's photographs, which would it be?

Salvesen: That's a tough one (laughs). Probably the symbolic "Harlequin Dress" from 1950. That photograph is so powerful that it's impossible to forget it once you saw it.

── Tell us about your recent work.

Salvesen: At LACMA, we are currently holding an exhibition on Ellsworth Kelly's prints and paintings. In the future, we have exhibitions scheduled on Sharon Lockhart in June 2012, on Robert Mapplethorpe (who was also greatly influenced by Irving Penn) in October 2012, and on Mexican cinematographer Gabriel Figueroa in the autumn of 2013.
(interviewer: Keiko Kamijo)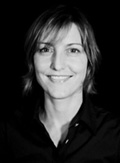 Britt Salvesen
Curator and Department Head, Photography and Prints and Drawings at the Los Angeles County Museum of Art - LACMA
Britt Salvesen joined LACMA in October 2009. Previously, she was director and chief curator at the Center for Creative Photography (CCP), University of Arizona. Prior to joining CCP, Salvesen was associate curator of prints, drawings, and photographs at the Milwaukee Art Museum (2002-04), and associate editor of scholarly publications at the Art Institute of Chicago (1994-2002). She received her MA from the Courtauld Institute of Art (1991) and her PhD from the University of Chicago (1997).
Among the exhibitions Salvesen has curated are Harry Callahan: The Photographer at Work (2006); New Topographics (2009); Catherine Opie: Figure and Landscape (2010); and Ellsworth Kelly: Prints and Paintings (2012). Future projects include exhibitions of work by Sharon Lockhart, Katy Grannan and Charlie White, Robert Mapplethorpe, John Divola, and a major presentation of the Leonard and Marjorie Vernon Collection.
March 30, 2012 7:48 PM|Irving Penn and Issey Miyake: Visual Dialogue,Photograph