We asked 8 people who are active in various fields to describe the notions that spring to mind when presented with the themes of "units" and "gauges."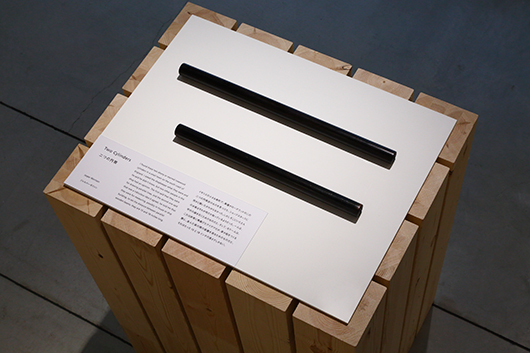 "Two Cylinders" Jasper Morrison
I found these two ebony or stained rosewood cylinders in a small town on the south coast of England. I asked the shopkeeper what they were and he said he didn't know, but two other people in the shop had an opinion. The first said that they were for drawing parallel lines, and the second one said that was a ridiculous idea (I agree), he told me that they were for measuring, possibly in house or ship building, to set the distance between parallel wooden beams, they are 15 and 18 inches long.
"Everyone's Mesurement" Special participants
Kaoru Kasai
Nobori Kiuchi
Klein Dytham Architecture
Fumiko Sakuhara
Naomi Takayama
Akira Minagawa
Jasper Morrison
Koichi Yanagimoto
April 30, 2015 1:00 PM|Measuring: This much, That much, How much?