contents
UPCOMING PROGRAM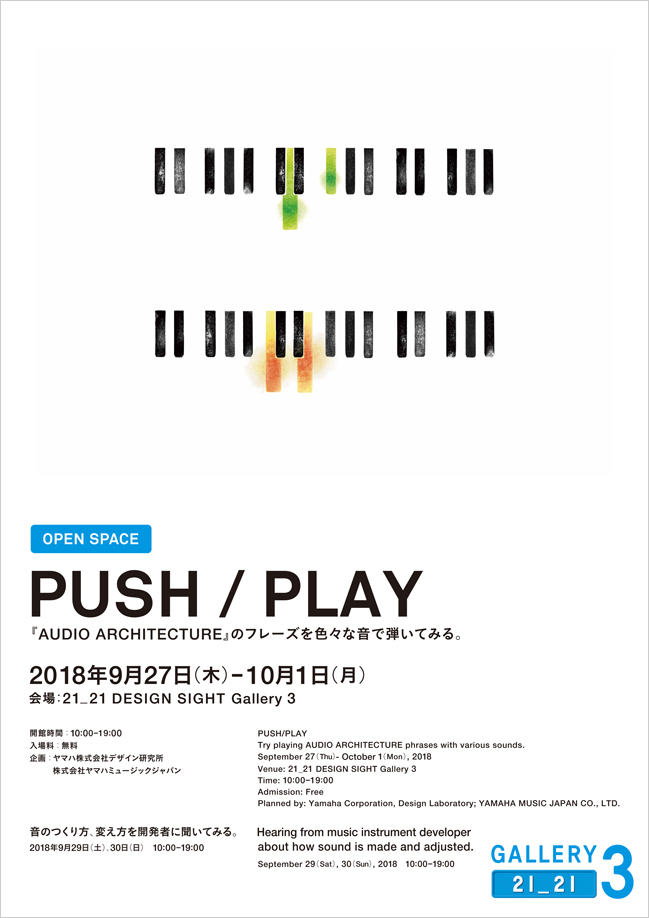 September 27, 2018 (Thu) - October 1, 2018 (Mon)
Come and experience playing phrases from music "AUDIO ARCHITECTURE" composed exclusively for the exhibition being held at 21_21 DESIGN SIGHT Gallery 1 & 2 by Keigo Oyamada (Cornelius). Eight different types of mini keyboards will be on display at Gallery 3. On September 29 and 30, music instrument developers from Yamaha Corporation will give explanations of the various keyboards.
Planned by: Yamaha Corporation, Design Laboratory; YAMAHA MUSIC JAPAN CO., LTD.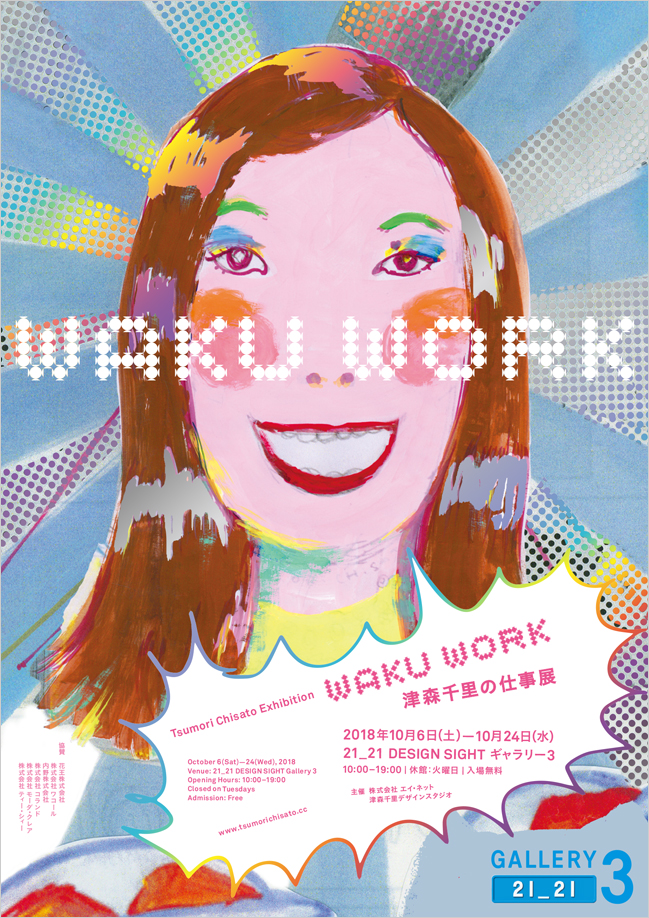 October 6, 2018 (Sat) - October 24, 2018 (Wed)
Fashion designer, Chisato Tsumori is always challenging to bring new creation. This exhibition introduces you the archive collection, collaboration items, and her actual drawing in the past. Also, "I.S. Chisato Tsumori Design," which was one of the big trend brands in 80's, will come back in 2018. These revival items will be on sale at this exhibition. Please enjoy the happy world of TSUMORI CHISATO.
Organized by: A-net Inc.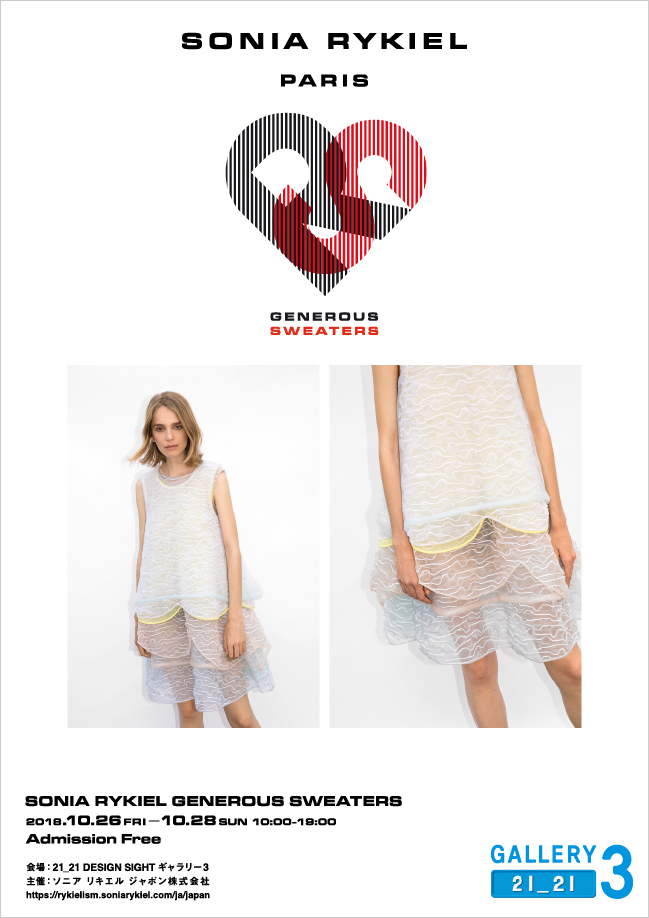 October 26, 2018 (Fri) - October 28, 2018 (Sun)
2018 marks the 50th anniversary of Sonia Rykiel. To mark the half-century of this event, Sonia Rykiel artistic director Julie De Libran asked seven influential, international women to create a sweater, an homage to the very first design that motivated Sonia Rykiel to launch her own fashion house. Visitors can view the limited-edition sweaters, explore the design concepts and knitting techniques and more. Proceeds of the sales will go to individual charities chosen by each participant for a significant reason.
Organized by: SONIA RYKIEL JAPON K.K.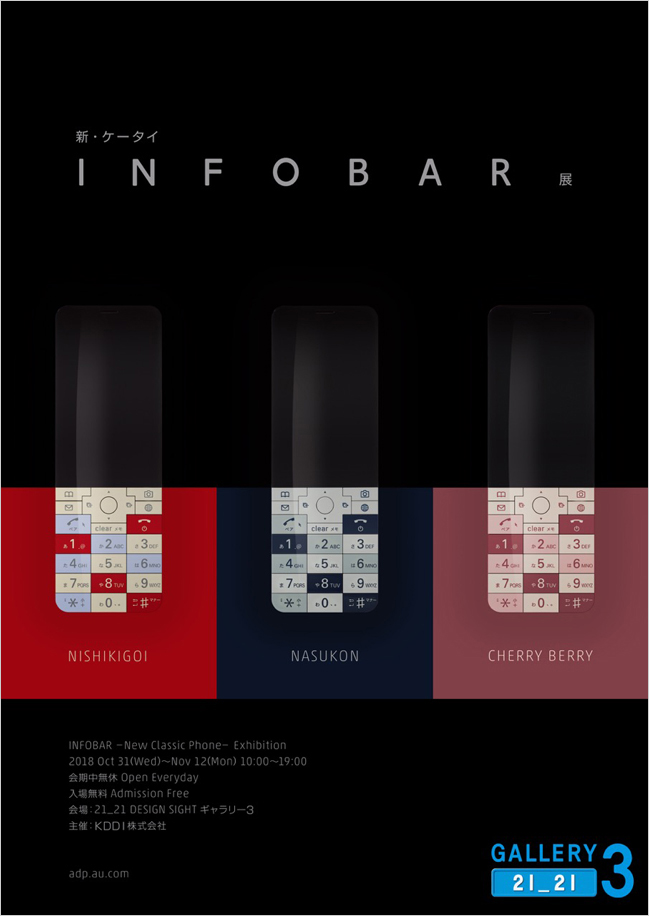 October 31, 2018 (Wed) - November 12, 2018 (Mon)
15th Anniversary INFOBAR xv – New Classic Phone designed by Naoto Fukasawa is coming in this Autumn. You can promptly experience the new phone before release in this exhibition. In addition, the history of INFOBAR series since 2003 will be showcased.
Organized by: KDDI CORPORATION
Gallery 3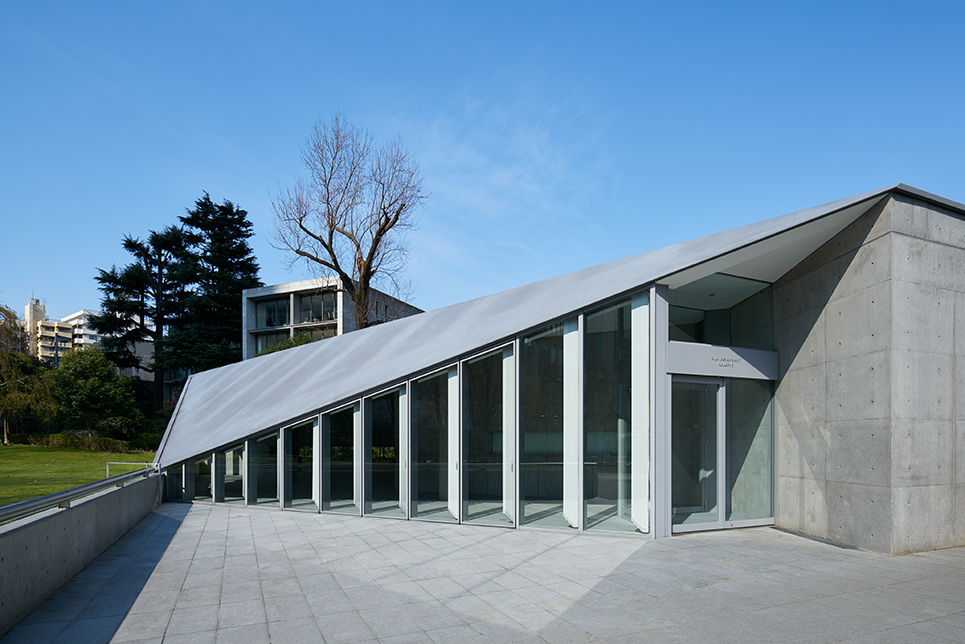 21_21 DESIGN SIGHT Gallery 3 / Photo: Masaya Yoshimura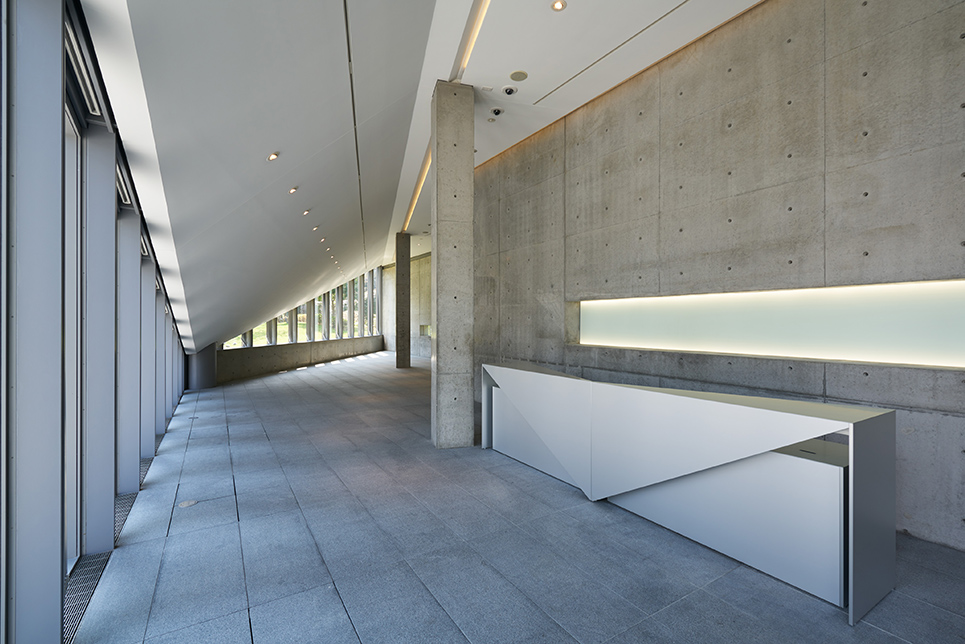 21_21 DESIGN SIGHT Gallery 3 / Photo: Masaya Yoshimura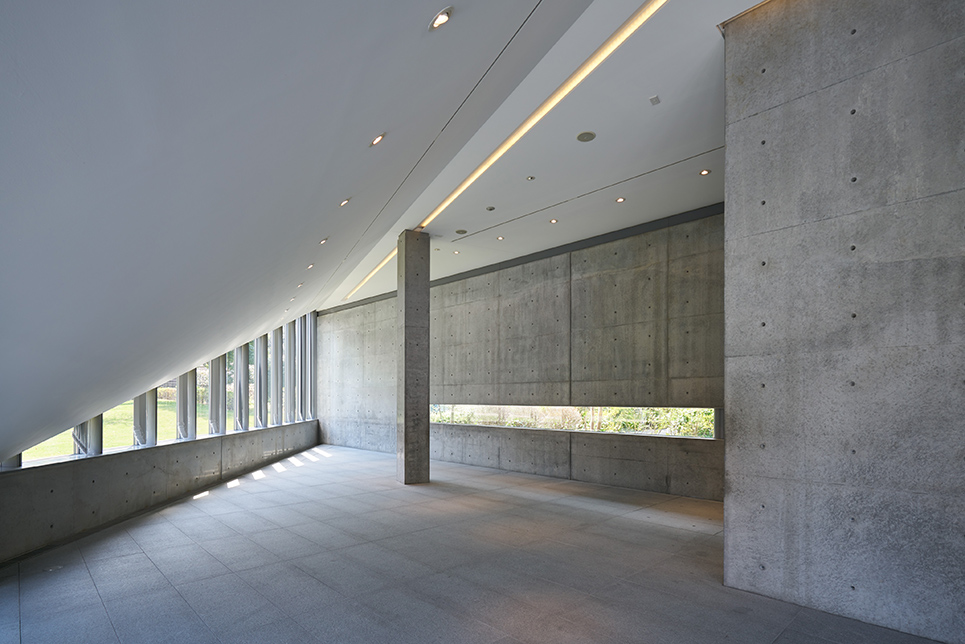 21_21 DESIGN SIGHT Gallery 3 / Photo: Masaya Yoshimura
21_21 DESIGN SIGHT Gallery 3 / Photo: Masaya Yoshimura
21_21 DESIGN SIGHT Gallery 3 is a presentation space dedicated to design, which develops collaborative programs with domestic and overseas corporations, which constitute one of the major bases of making things, as well as educational, research and cultural institutions. Through programs that inform the very present of design, here, we can think about our everyday life and future with a greater number of people, and make various proposals.
Through networks that continue to expand from the Gallery 3 as the hub, 21_21 DESIGN SIGHT will explore a multifaceted "design point of view" in future.