2012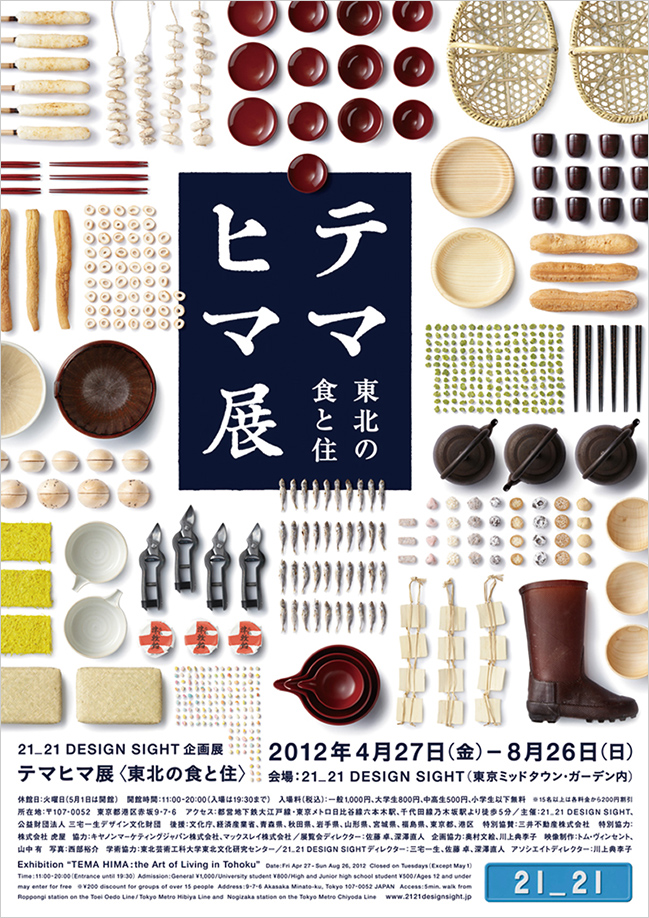 Exhibition "TEMA HIMA: the Art of Living in Tohoku"
April 27, 2012 (Fri) - August 26, 2012 (Sun)
"Time": a concept that is often lost in modern society, is a value that still lives on in the making things of the Tohoku region. "Tema (effort)" and "hima (time)" are the key processes when contemplating designs of the future. The exhibition focuses on the art of living in Tohoku to think about Japan's culture, spirit, and the endless possibilities of making things.
Exhibition "Ikko Tanaka and Future/Past/East/West of Design"
September 21, 2012 (Fri) - January 20, 2013 (Sun)
From postwar to economic growth, Ikko Tanaka, one of Japan's leading design masters, lived gracefully through turbulent times. His artistic vision succeeded tradition while exploring the insights of tomorrow, and drew upon the exchange between east and west. Series of works produced with creators and entrepreneurs of his generation will be introduced from archives in a search for hints to the future.