contents
Image-Makers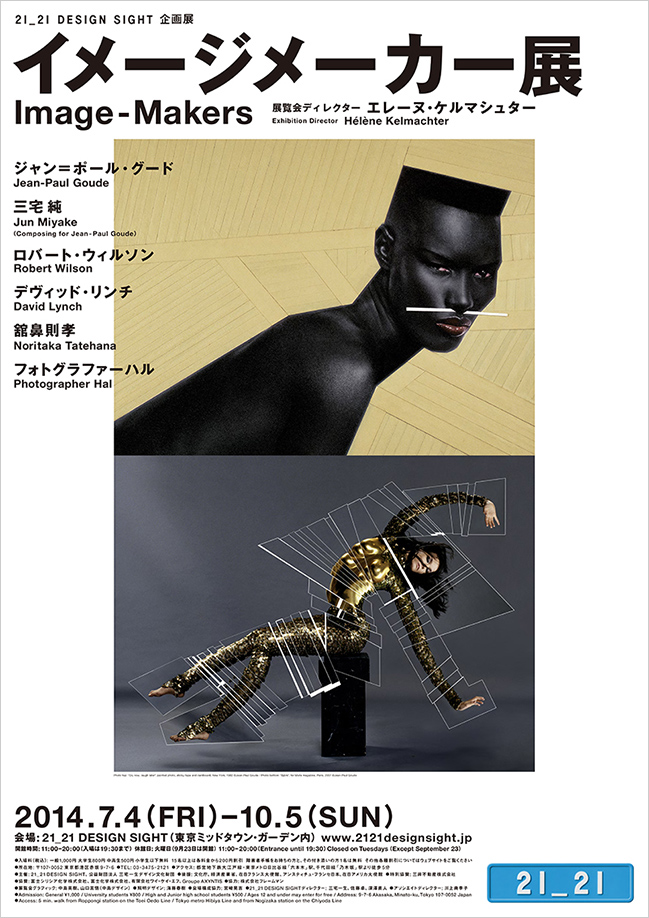 The visitors were invited to the world of Jean-Paul Goude, a cross-genre artist (art director / illustrator / designer, etc.) known as "the image-maker," which was filled with his works including photography and "moving sculptures." The curator, Hélène Kelmachter successfully put together the show featuring the works of other artists who share the same image-maker's ethos, both domestic and overseas, such as Noritaka Tatehana and David Lynch.
Date: July 4 - October 5, 2014
Director's Message
Today's world is rich in diversity and cross-cultural connections. Many artists explore this diversity by blurring the boundaries between artistic disciplines and more specifically between visual arts and design. The exhibition "Image-Makers" brings together artists of different generations and nationalities, who refuse categorization. Working in cinema, design, advertising, fashion, theatre and music, they invent a world of images and fantasy. Offering visitors a total perceptual experience, they will explore the question "What is design?" Is it a way of looking at the world, a laboratory for probing reality, an expression of a life rich in diversity, a bridge between creativity and everyday life?
Surprising and enchanting, their works bring the visitor into a world of childlike wonder. The title of the exhibition was inspired by Jean-Paul Goude, advertising artist, illustrator, designer, inventor of dream machines and hybrid art objects. Using photography, drawing, installation, video, moving sculptures, "morphological improvements" and image manipulation, Goude has, since the early 70s, continuously blurred the boundaries between the worlds of fashion and performing art, design and film, rethinking reality. His images have now become icons. With the collaboration of composer Jun Miyake, he creates a total work of art, combining sound and movement.
Through his video portraits, Robert Wilson, theatre director who works with light, movement and images, questions our perception of reality and invites us to look at things in new way. Another image-maker, David Lynch moves from the world of film-making to that of painting, or from photography to design, continuously enlarging the realm of his artistic practices. His lithographs, on display in the exhibition, serve as a way to explore the movement of the hand and its direct relationship to such materials as stone, ink and paper. Gestures and tools are also central to the practice of Noritaka Tatehana, who engages himself in renewing traditional techniques and forms to create shoe-sculptures that belong to the world of both fashion design and visual arts. Playing on the visual codes of fashion and advertising, Photographer Hal creates colourful and joyful images by vacuum wrapping couples, transforming them into strange objects.
The exhibition "Image-Makers" tells the story of a vibrant world, where art, rich in its diversity, reveals the beauty and wonder hidden in everyday life.
Hélène Kelmachter
Outline
Organized by

21_21 DESIGN SIGHT, THE MIYAKE ISSEY FOUNDATION

In association with

Agency for Cultural Affairs; Ministry of Economy, Trade and Industry; French Embassy; Institut franҫais du Japon; U.S. Embassy, Tokyo

Special Sponsor

Mitsui Fudosan Co., Ltd.

Sponsored by

FUJI SILYSIA CHEMICAL Ltd., FUJI CHEMICAL Co., Ltd., Y. K. F. Ltd., Groupe AXYNTIS

Supported by

Frame Man Co., Ltd.
Exhibition Director

Hélène Kelmachter

Graphic Design

Hideki Nakajima, Gengo Yamaguchi (Nakajima Design)

Lighting Design

Haruki Kaito

Space Design Support

Mitsuyoshi Miyazaki
Partichipating Creators

Jean-Paul Goude, Jun Miyake, Robert Wilson, David Lynch, Noritaka Tatehana, Photographer Hal