contents
Men's Rings
Collection Yves Gastou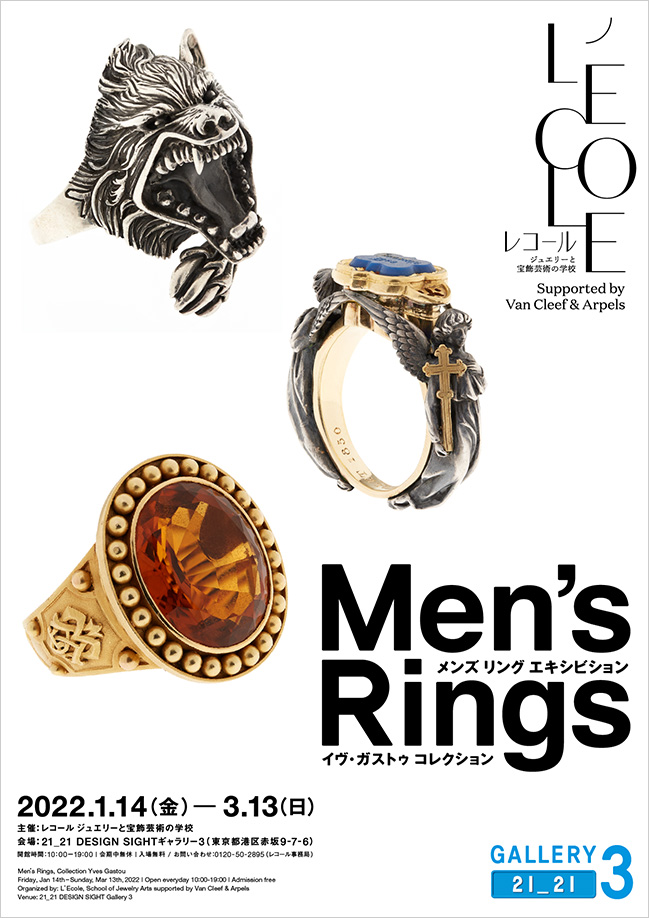 Yves Gastou was a pioneering antiques dealer who was the first of his generation to exhibit the pieces of design of Studio Alchimia and Shiro Kuramata at his gallery in Paris in 1980's. His personality as a collector became well known through the exhibition of his breathtaking collection of men's rings, first time at L'ÉCOLE, School of Jewelry Arts supported by Van Cleef & Arpels in Paris in 2018.
This exhibition in Tokyo, organized by L'ÉCOLE showcases an array of about 400 rings ranging from rings of 17th century Venice doges to American biker rings of the 1970's, ancient Egyptian rings to 19th century "memento mori" skull rings, 18th century enameled rings to rings by contemporary artists.
This collection, unprecedented because it is exclusively dedicated to men's rings, whereas it is rather popular and contemporary to associate the jewel to the feminine, will provide a new perspective to each visitor.
ONLINE TALK: Men's Rings, Collection Yves Gastou
Date:Thursday, January 27, 2022
Time:20:00 - 21:00
Speaker:Victor Gastou(Gastou Gallery owner), Gislain Aucremanne (Art Historian, Professor at L'ÉCOLE)
URL:https://www.lecolevancleefarpels.com/jp/en/mens-rings-exhibition

Date

January 14 (Fri) - March 13 (Sun), 2022

Venue

21_21 DESIGN SIGHT Gallery 3

Closed

Open everyday

Time

11:00 - 18:00


*Opening hours have been changed from January 21, 2022.

Admission

Free
Organized by

L'ÉCOLE, School of Jewelry Arts supported by Van Cleef & Arpels

Inquiry

L'ÉCOLE Administrative Office 0120-50-2895 (11:00 - 19:00, Except Saturdays, Sundays, National Holidays, and New Year Holidays)

Website