contents
PUSH/PLAY
Try playing AUDIO ARCHITECTURE phrases with various sounds.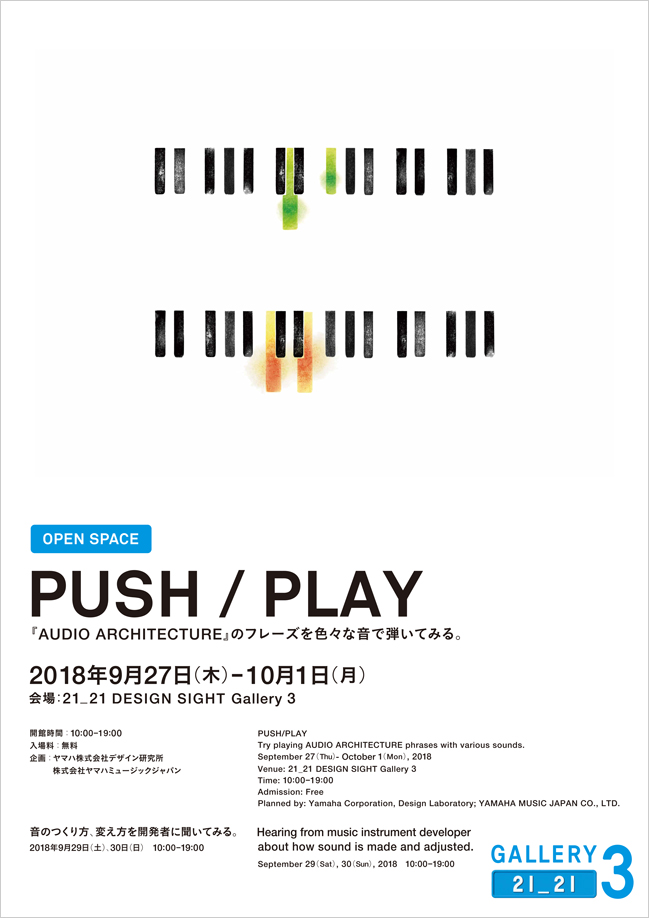 Come and experience playing phrases from music "AUDIO ARCHITECTURE" composed exclusively for the exhibition being held at 21_21 DESIGN SIGHT Gallery 1 & 2 by Keigo Oyamada (Cornelius). A total of eight keyboard instruments will be on display at Gallery 3, including synthesizer, electric piano, combo organ, VOCALOID Keyboard, keyboard-type music box (prototype) and Pianica. Those wide variety of instruments provide you to try comparing the musical tones, feel and design. On September 29 and 30, music instrument developers from Yamaha Corporation will give explanations of the various keyboards.
Hearing from music instrument developer about how sound is made and adjusted.
September 29 (Sat) - 30 (Sun), 2018 10:00 - 19:00
Date

September 27 (Thu) - October 1 (Mon), 2018

Venue

21_21 DESIGN SIGHT Gallery 3

Time

10:00 - 19:00

Admission

Free
Planning

Yamaha Corporation, Design Laboratory; YAMAHA MUSIC JAPAN CO., LTD.