contents
Design Ah!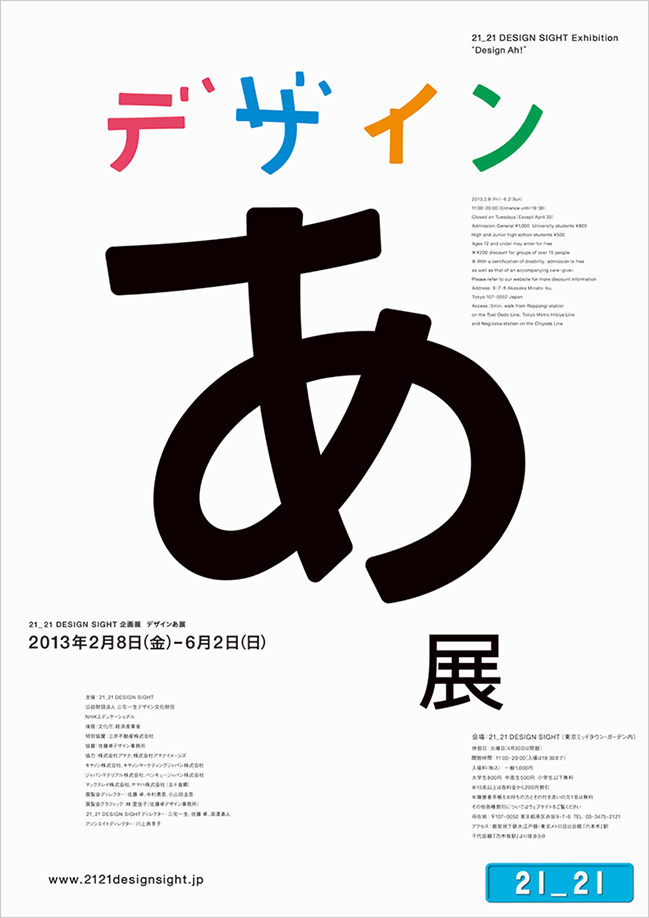 The exhibition was developed from an educational program called "Design Ah!" on NHK educational channel. Calling the ability for insight and imagination, which is indispensable in our daily lives and activities, and the physical ability to acknowledge appropriate ways to respond subconsciously, "design mind" was the theme of choice. It was planned to foster a deep sensibility for both adults and children alike, and a design mind so that the visitors could feel and experience the installations with music and videos with their whole body.
Date: February 8 - June 2, 2013
Director's Message
To Adults
Fostering a Design Mind
Design is nothing special; it blends into our daily lives. There is not one thing in our lives that can remain strangers to design. Design is not just about the way things around us are shaped or about how cultures are passed on. Design is an integral element of human interaction; for politics, economy, medicine, science, and social activity. That is why the ways that we build our design mind will become all the more important for each and every one of us as we face the future.
For children, our future adults and the already adults of today, for politicians and top corporate managers; I ask them all to build a greater Design Mind. This is the concept which gave birth to "Design Ah!," the NHK educational channel program started in April 2011 for which I act as General Director. Now, this program is going beyond television and I planned the "Design Ah! Exhibition" that visitors can actually see and experience at 21_21 DESIGN SIGHT. Like the program, this exhibition will be created together with interface designer Yugo Nakamura and musician Keigo Oyamada along with many other creators, all exploring the possibilities of this pivotal "Design Mind." Rather than simply linking film, music, things, websites, and TV program to "understand" design with the brain, this exhibition will help visitors "feel" design with the adept body senses that lie in all of them.
Taku Satoh
To Children
"You' see"
Most of "making" is about "seeing." The start of making things has its roots in the things I have seen until now. In this world, what and how we "see" is the foundation of all things "created." The first thing I thought of on this children's program "Design Ah!" was on this act of "seeing."
Many beautiful and interesting things lie hidden around us. If there was one thing that you could "see" only with your own eyes without telling a single soul; that would be something for you alone...your own private world. Revel in the joy of "seeing" and expand your own private world. Then, promise that you will make something from it...and show it to everyone. And I promise you, that "your" bountiful creation is sure to bring bounty even to the next "you" who sees it.
This "Design Ah! Exhibition" shows many things in many ways. But just like "Design Ah!" on TV, remember that "you" are the one "seeing."
Please enjoy!
Yugo Nakamura
To All
Message for Exihibition "Design Ah!"
This is an exhibition that fosters sensitivity and imagination through design. See, hear, touch, and experience the various Ah! that lay hidden around us.
Keigo Oyamada
Outline
Organized by

21_21 DESIGN SIGHT, THE MIYAKE ISSEY FOUNDATION, NHK Educational

In association with

Agency for Cultural Affairs, Ministry of Economy, Trade and Industry

Special sponsor

Mitsui Fudosan Co., Ltd.

Sponsored by

Taku Satoh Design Office Inc.

Supported by

amana inc., amana images inc., Canon Inc., Canon Marketing Japan Inc., JAPAN MATERIAL Co., Ltd., BenQ Japan Co., Ltd., MAXRAY INC., YAMAHA CORPORATION
Exhibition Directors

Taku Satoh, Yugo Nakamura, Keigo Oyamada

Graphic Design

Rikako Hayashi (Taku Satoh Design Office Inc.)

Space Design Support

Lui Igarashi
Participating Creators

Yosuke Abe (tha ltd.), Tomohiro Okazaki, Hisato Ogata (takram design engineering), Origata Design Institute, studio note, Perfektron, plaplax, Etsuko Yamada (Musubi)
Special Installation
"Ah" by Kotaro Sekiguchi
Date

March 20 - April 14, 2013

Venue

Tokyo Midtown Plaza 1F