contents
Workshop "Let's Wrap the Arc de Triomphe and the Eiffel Tower with your shape"
21_21 DESIGN SIGHT holds a workshop "Let's Wrap the Arc de Triomphe and the Eiffel Tower with your shape" by artist Kotaro Sekiguchi as a related program to the exhibition "Christo and Jeanne-Claude 'L'Arc de Triomphe, Wrapped.'"
Participants will create their own "shapes" using newspaper and duct tape with Sekiguchi's lecture. Using these and the "shapes" created by Sekiguchi, he will wrap the frame of the Arc de Triomphe and the Eiffel Tower in Tokyo Midtown for around one week.
Visitors to Tokyo Midtown will enjoy seeing the Arc de Triomphe and the Eiffel Tower wrapped in various "shapes" after it is completed.
Let's wrap the Arc de Triomphe and the Eiffel Tower with everyone's creativity.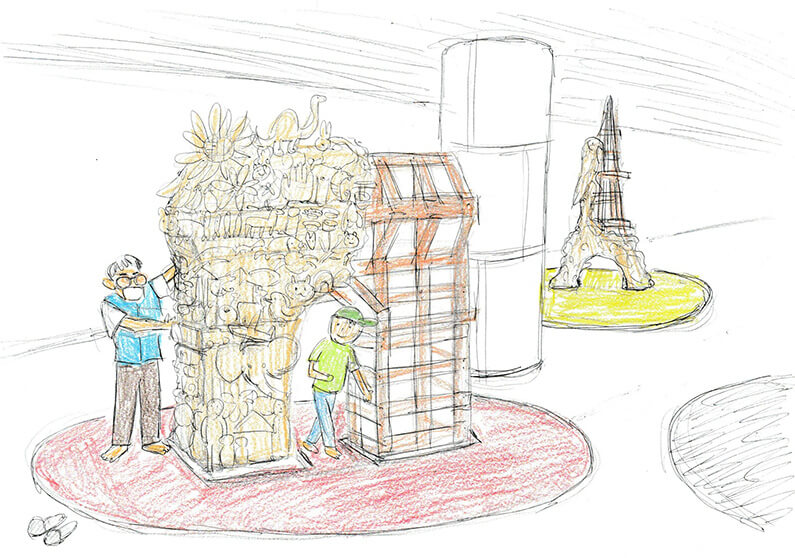 Image by Kotaro Sekiguchi
Date

August 4 (Thu) - 11 (Thu), 2022

Time

11:00 - 15:00 (Last admission is at 14:30)

Venue

Tokyo Midtown PLAZA B1 in front of MUJI
* Please refer to this map.

Instructor

Kotaro Sekiguchi

Special Sponsor

Mitsui Fudosan Co., Ltd.

Participation fee

Free

Participation

No reservation required. First come first served on the day of the workshop. Please come directly to the reception desk at the workshop venue.
* This location of the workshop is different from 21_21 DESIGN SIGHT
* In order to accommodate as many participants as possible, we may set a time limit depending on how crowded the venue is.

Number of participants

Up to 12 people at the same time
* Up to 4 people per group may work at the same table.
* Please sit at a table spaced apart from other groups.

Open to

Everyone
* Small children are also welcome. An adult must accompany every two children under the age of 10.
* Adults only are also welcome to participate.
* The "shapes" created in this workshop will be part of the exhibited works. If you wish to take home with you, please make at least two pieces.
* Please wear clothes that can get dirty, as this workshop uses newspaper which may stain your hands with ink.
* Images and videos taken at the workshop may be used on the 21_21 DESIGN SIGHT website, SNS, etc.
If you do not wish to be pictured, please ask a staff member in advance.
* When taking photos or videos, please be careful not to include other participants or people passing by. If you post your photo or video on a public such as SNS without the permission of the person in the photo or video, please make sure that the person in the photo or video is not identifiable.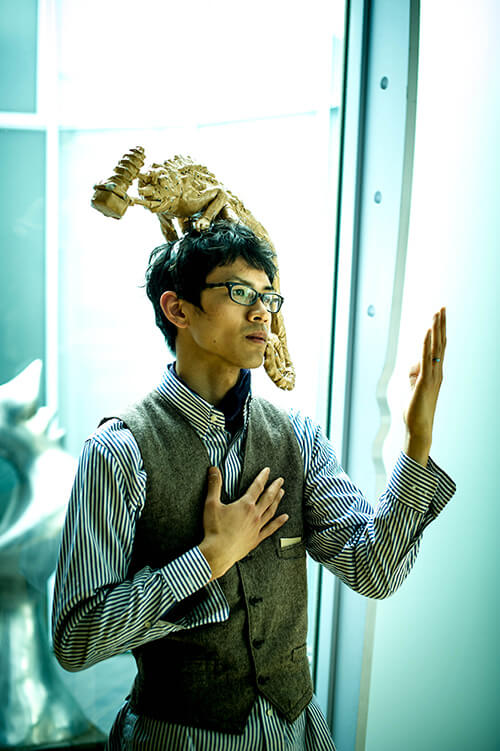 Kotaro Sekiguchi
Born in Maebashi City, Gunma Prefecture in 1983. While studying sculpture at Tama Art University, he began to make large-scale works, recalling the crafts using newspaper and duct tape that his parents taught him in childhood. In 2012, he was awarded the 15th Taro Okamoto Award for Contemporary Art. In 2019, he was invited to participate in "In BEPPU." To the present, he has created and exhibited his works and given workshops in various places in Japan.
Notice for Visits
Requests to Visitors
If you or anyone close to you have experienced symptoms such as fever, throat pain, coughs, excessive fatigue, trouble breathing, or any other such symptoms, or if you or your companions have been seen by a doctor and/or been prescribed medications within the past two weeks for fever or cold symptoms, please refrain from participating the workshop.
If you or anyone close to you have visited one of the restricted countries / areas / regions designated by the Immigration Act within the past 14 days, please refrain from participating in the workshop.
Upon coming to our workshop space, visitors will have their temperatures measured by staff using non-contact thermometers. Entrance into facilities will not be permitted if you have a temperature exceeding 37.5°C.
Please cooperate by disinfecting your hands and fingers using alcohol-based disinfectant and by washing your hands thoroughly with soap.
Please wear a mask to cover your mouth and nose during the workshop (except for small children).
Countermeasures at the workshop
At the entrances we have alcohol-based hand disinfectant in place.
Our staff frequently disinfect their hands and fingers. If any member of the staff exhibits symptoms of a cold or has a fever, they are not permitted to work.
All the staff wear masks.
The tables, chairs and other items which many people touch are cleaned and disinfected frequently.
Depending upon how crowded it is, we may restrict the number of participants.
Within the facility and surrounding areas, we may remind you to keep distance among other visitors.