contents
About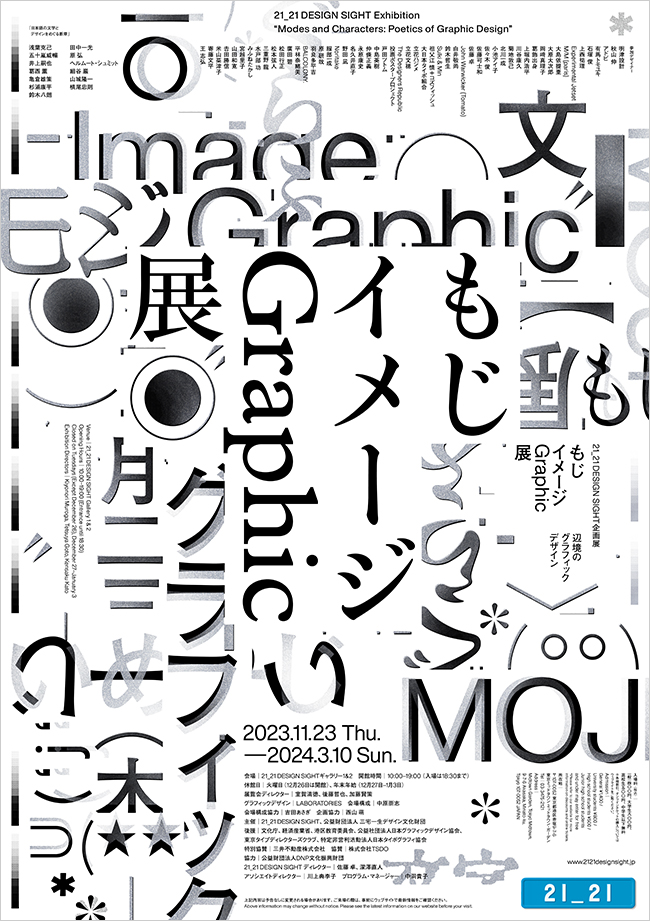 >> Download the exhibition flyer (PDF)
21_21 DESIGN SIGHT holds the exhibition "Modes and Characters: Poetics of Graphic Design" from November 23, 2023. The exhibition is directed by Kiyonori Muroga, the editor of various books on graphics and typography, Tetsuya Goto, a researcher in graphic design, and Kensaku Kato, a graphic designer.
This exhibition aims at understanding graphic design since the 1990s, when it became mainstream to carry out most design processes for publication on computers. This was also when the internet secured its position as a key social infrastructure. The exhibition focuses on the history of Japanese written characters and design.
Main exhibits comprise projects by 54 individuals and teams of graphic designers and artists active in Japan and abroad. Japanese graphic culture has developed with its unique use of Chinese characters and kana, choice of vertical and horizontal writing directions and signs appended to denote pronunciation through a mixture of script and images. How have designers dealt with global digital information technology, what have they produced in this effort, and what are the possibilities for the future? These questions are tackled in 13 contemporary themes, including "formative design," "physicality," "media," and "material."
In the present age, where a large volume of visual information is exchanged, creators and recipients are often forced to focus on efficiency. We hope this exhibition will allow visitors to rediscover the original enjoyment and diversity of graphic design, observing the creations of characters and images that freely emerge beyond a grid, and feeling the energy of design arising from their combinations and in-between spaces.
Title

Exhibition "Modes and Characters: Poetics of Graphic Design"

Date

November 23 (Thu), 2023 - March 10 (Sun), 2024

Venue

21_21 DESIGN SIGHT Gallery 1 & 2

Closed

Tuesdays (Except December 26), December 27 - January 3

Opening Hours

10:00 - 19:00(Entrance until 18:30)

Admission

General ¥1,400 / University Students ¥800 / High School Students ¥500 / Junior High School Students and under may enter for free
Click here for discount information
* Online Tickets are available via Art Sticker (external website).
Organized by

21_21 DESIGN SIGHT, THE MIYAKE ISSEY FOUNDATION

In Association with

Agency for Cultural Affairs; Ministry of Economy, Trade and Industry; MINATO CITY BOARD OF EDUCATION; Japan Graphic Design Association Inc.; Tokyo Type Directors Club; Japan Typography Association

Special Sponsor

Mitsui Fudosan Co., Ltd.

Sponsor

TSDO Inc.

Supported by

DNP Foundation for Cultural Promotion
Exhibition Directors

Kiyonori Muroga, Tetsuya Goto, Kensaku Kato

Graphic Design

LABORATORIES

Space Design

Takashi Nakahara, Akane Kosaka

Space Design Associate

Asagi Yoshida

Planning Associate

Moe Nishiyama, Toshinobu Nagata

Participating Designers

Akitsu Sekkei, Shin Akiyama, Adobe, Tomoyuki Arima, Shun Ishizuka, Yuri Uenishi, Experimental Jetset, M/M (paris), Idea Oshima, Daijiro Ohara, Mariko Okazaki, Katsushika Shusshin, Kohhei Kamihoriuchi, Yasuhisa Kawatani, Atsuki Kikuchi, Issay Kitagawa, Aiko Koike, Shun Sasaki, Kashiwa Sato, Taku Satoh, John Warwicker (Tomato), Yoshihisa Shirai, Tezzo Suzuki, Sulki & Min, Shin Sobue + cozfish, Dainippon Type Organization, Hajime Tachibana, Fumio Tachibana, The Designers Republic, Vote Poster Project, Tztom Toda, Hideki Nakajima, Masayoshi Nakajo, Yasuhito Nagahara, Naoko Nakui, Nagi Noda, Noritake, Kazunari Hattori, Kenya Hara, heiQuicci HARATA, BALCOLONY., Naomi Hirabayashi, Midori Hirota, Yukimasa Matsuda, Gento Matsumoto, Ryu Mieno, Isao Mitobe, Takashi Mifune, Satoko Miyakoshi, Kazuhiro Yamada, Katsunobu Yoshida, Natsuko Yoneyama, Bunpei Yorifuji, Wang Zhihong
In the section "Elements Surrounding Japanese Written Characters and Design," works by the following designers and artists are exhibited.
Katsumi Asaba, Takenobu Igarashi, Tsuguya Inoue, Kaoru Kasai, Yusaku Kamekura, Kohei Sugiura, Hachiro Suzuki, Ikko Tanaka, Hiromu Hara, Helmut Schmid, Gan Hosoya, Ryuichi Yamashiro, Tadanori Yokoo
21_21 DESIGN SIGHT Directors

Taku Satoh, Naoto Fukasawa

Associate Director

Noriko Kawakami

Program Manager

Takako Nakahora