contents
About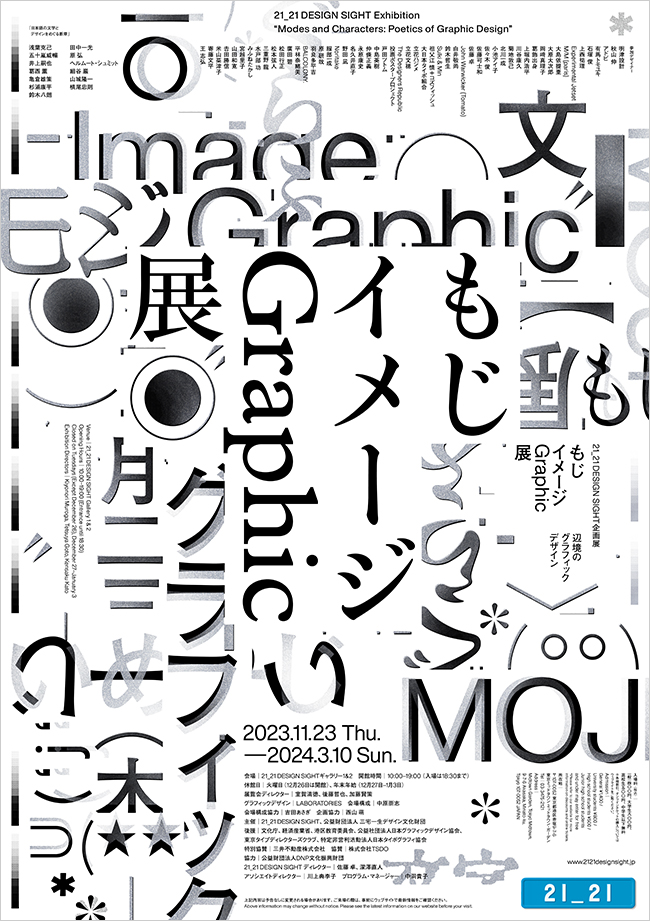 21_21 DESIGN SIGHT will hold the exhibition "Modes and Characters: Poetics of Graphic Design" from November 23, 2023. The exhibition is directed by Kiyonori Muroga, the editor of various books on graphics and typography; Tetsuya Goto, a researcher in graphic design; and Kensaku Kato, a graphic designer.
This exhibition aims at understanding design after the 1990s, when desktop publishing (DTP) became the mainstream in the design world, allowing designers to execute many processes in producing data for publications and printed matters on PCs, by focusing on the relationship between characters and design.
Main exhibits comprise creations by about 50 individuals and teams of graphic designers active in Japan and abroad. In Japanese graphic culture, which has its unique use of Chinese characters and kana, vertical and horizontal writing styles, and a mixture of text and images, how have designers dealt with global digital information technology, what have they produced in this effort, and what possibilities have their activities presented? These questions are tackled in 13 themes, including "formative design," "physicality," and "media."
In the present age, where a large volume of visual information is exchanged, creators and recipients are often forced to focus on efficiency. We hope this exhibition will allow visitors to rediscover the original enjoyment and diversity of graphic design, observing the creations of characters and images that freely emerge beyond a grid, and feeling the energy of design arising from their combinations and in-between spaces.
Date

November 23 (Thu), 2023 - March 10 (Sun), 2024

Venue

21_21 DESIGN SIGHT Gallery 1 & 2

Closed

Tuesdays (Except December 26), December 27 - January 3

Opening Hours

10:00 - 19:00(Entrance until 18:30)

Admission

General ¥1,400 / University Students ¥800 / High School Students ¥500 / Junior High School Students and under may enter for free
Click here for discount information
Organized by

21_21 DESIGN SIGHT, THE MIYAKE ISSEY FOUNDATION

Special Sponsor

Mitsui Fudosan Co., Ltd.

Sponsor

TSDO Inc.
Exhibition Director

Kiyonori Muroga, Tetsuya Goto, Kensaku Kato

Graphic Design

LABORATORIES

Space Design

Takashi Nakahara

Space Design Associate

Asagi Yoshida

Planning Associate

Moe Nishiyama
21_21 DESIGN SIGHT Directors

Taku Satoh, Naoto Fukasawa

Associate Director

Noriko Kawakami

Program Manager

Takako Nakahora