contents
About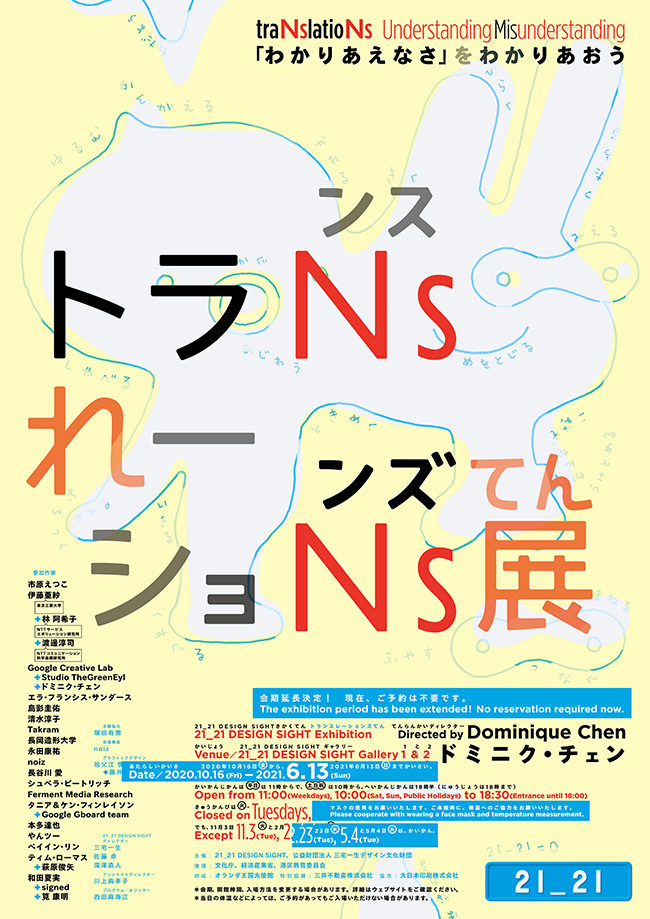 21_21 DESIGN SIGHT will hold the exhibition "traNslatioNs - Understanding Misunderstanding" from October 16, 2020. The exhibition director, Dominique Chen, researches informatics and has undertaken many interdisciplinary studies of art, design and expressive media.
Translation is a process that supports communication between two parties that are otherwise unable to understand each other. This exhibition presents the possibilities for acceptance and embrace of this mutual incomprehension. Taking the role of translation as a kind of "communication design," a space will be created that allows the visitor to experience the mysterious nature of language that we are unaware in our lives and the excitement of new discoveries of meaning or misunderstandings that emerge from this insight.
The exhibition period has been revised to prevent the spread of COVID-19.
Date

October 16 (Fri), 2020 - March 7 (Sun), 2021
*Reservation required

Venue

21_21 DESIGN SIGHT Gallery 1 & 2

Closed

Tuesdays (Except November 3, February 23), December 26 - January 3

Time

Weekdays 11:00 - 18:30 (Entrance until 18:00)
Saturdays, Sundays and Public Holidays 10:00 - 18:30 (Entrance until 18:00)

Admission

General ¥1,200 / University Student ¥800 / High School Student ¥500 / Junior High School Student and under may enter for free
Click here for discount information
Organized by

21_21 DESIGN SIGHT, THE MIYAKE ISSEY FOUNDATION

In Association with

Agency of Cultural Affairs; Ministry of Economy, Trade and Industry; MINATO CITY BOARD OF EDUCATION

Subsidized by

The Embassy of the Kingdom of the Netherlands

Special Sponsor

Mitsui Fudosan Co., Ltd.

Supported by

Dai Nippon Printing Co., Ltd.
Exhibition Director

Dominique Chen

Planning Associate

Arina Tsukada

Space Design

noiz

Graphic Design

Shin Sobue + Haruka Fujii (cozfish)
Participating Creators

Etsuko Ichihara, Asa Ito (Tokyo Institute of Technology) + Akiko Hayashi (NTT Service Evolution Laboratories) + Junji Watanabe (NTT Communication Science Laboratories), Google Creative Lab + Studio TheGreenEyl + Dominique Chen, Ella Frances Sanders, Keisuke Shimakage, Junko Shimizu + Yuhei Suzuki, Takram, Nagaoka Institute of Design, Kosuke Nagata, noiz, Ai Hasegawa, Spela Petric, Ferment Media Research, Tania & Ken Finlayson + Google Gboard team, Tatsuya Honda, yang02, Pei-Ying Lin, Tim Lomas + Shunya Hagiwara, Natsumi Wada + signed + Yasuaki Kakei
21_21 DESIGN SIGHT Directors

Issey Miyake, Taku Satoh, Naoto Fukasawa

Associate Director

Noriko Kawakami

Program Officer

Mamie Nishida