contents
Directors
21_21 DESIGN SIGHT opened in spring 2007, with Issey Miyake as its founder. Miyake, Taku Satoh and Naoto Fukasawa, served as its directors. Satoh and Fukasawa continue to serve in this capacity, while Noriko Kawakami continues to participate as an associate director. These are the key planners who consider the themes and details of the activities and exhibitions held at 21_21 DESIGN SIGHT.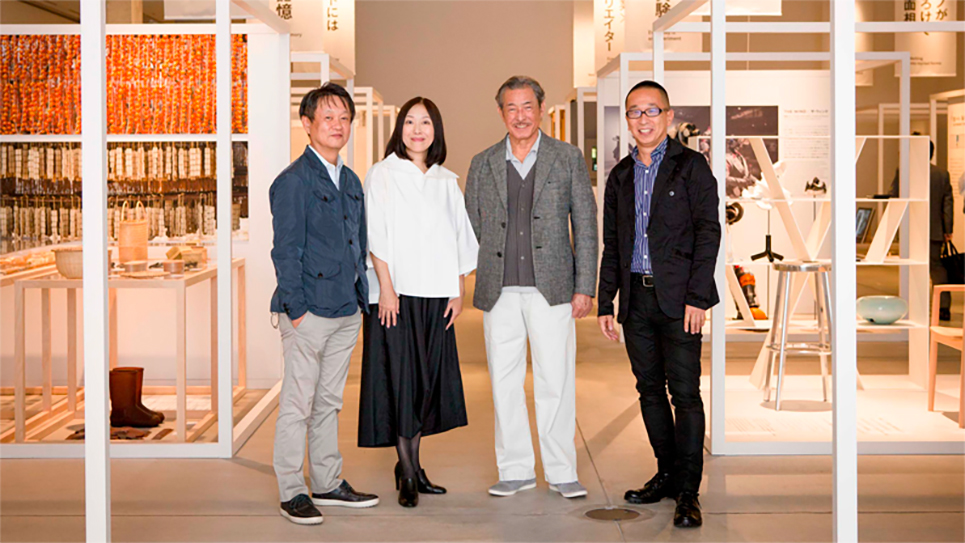 Photo : Yoshiaki Tsutsui
Issey Miyake
Designer, 21_21 DESIGN SIGHT Founder
In 1970, Miyake founded the Miyake Design Studio. The fundamental concept of his work is 'A Piece of Cloth.' Started "PLEATS PLEASE ISSEY MIYAKE" in 1993. Launched "A-POC (A Piece Of Cloth)" with Dai Fujiwara and his team in 1998. His continuous research with the Reality Lab. led to the launch of "132 5. ISSEY MIYAKE" and "IN-EI ISSEY MIYAKE" in 2010.
In 2003, I sent a letter to the Asahi Shimbun calling for the creation of a base for design in Japan. Kitayama & Company and Mitsui Fudosan offered their support and acted promptly to help me start. That made my heart skip a beat. It was such an exciting time, watching day by day as the construction of the building designed by Tadao Ando and inspired by the concept of "A Piece of Cloth" progressed. 21_21 DESIGN SIGHT was born from this optimism and has gathered support over the last decade because it has succeeded in communicating the surprises and the joy of design that permeates the fabric of our daily lives. As we are heading towards the future, we must think of new ways by which to inspire one another and to share knowledge with more and more people. 21_21 DESIGN SIGHT is a venue aiming to be opened for everyone. I hope we can continue to create new ways by which to keep the world moving. (from "Message for 10th anniversary of 21_21 DESIGN SIGHT," March 2017)
Issey Miyake
Taku Satoh
Graphic Designer, 21_21 DESIGN SIGHT Director
Satoh completed his master's degree at Tokyo University of the Arts in 1981. In 1984 he founded Taku Satoh Design Office. His work in package design includes "LOTTE XYLITOL gum" and "Meiji Oishii Gyunyu," and his work in graphic design includes "PLEATS PLEASE ISSEY MIYAKE" and the logos of the 21st Century Museum of Contemporary Art, Kanazawa and the National Museum of Nature and Science. He is also the art director for NHK Educational Channel programs, "Nihongo de Asobo" and the general director for "Design Ah!."
I have been serving as a director of 21_21 DESIGN SIGHT since it first opened, and I remember that the project itself started three years before 21_21 DESIGN SIGHT opened in 2007. At the start we engaged in discussions with complete freedom, without being bound by the concepts of design museums that already existed overseas. After a series of free discussions, we thought up the concept with flexible mind which was different from any other design museums. This gave us a sensation of unease about the unknown, but also a sense of great excitement. Since then we have held one exhibition after another, and I think that through a process of trial and error 21_21 DESIGN SIGHT has become established in society. However, establishment implies conceptualization. We will probably need to dismantle the existing conceptualization and advance further to the next stage. I think this is the design of 21_21 DESIGN SIGHT.
Taku Satoh
Naoto Fukasawa
Product Designer, 21_21 DESIGN SIGHT Director
Fukasawa graduated from Tama Art University in 1980. After working for IDEO's San Francisco and Tokyo offices, he established Naoto Fukasawa Design in 2003 acting as a designer and a consultant for companies, both domestic and overseas. Professor of Department of Integrated Design, Tama Art University. He has been the fifth director of the Japan Folk Crafts Museum since 2012.
I think these activities started from the time we assigned the name 21_21 DESIGN SIGHT. "Sight" has the meanings of visibility, visual field and perspective, and we sought to imbue a feeling of seeking to gaze at design. I also recall that we assigned the name because it had the same sound as "site" (place). Since our establishment as a venue for gazing at, expressing, and communicating design, the unique viewpoint and displays of the exhibitions have surprised and entertained the visitors. I think that perhaps there were many people who newly had the realization "so design is this kind of thing." We decided the directors in accordance with each exhibition theme, chose the creators and encouraged them to deeply explore the theme. I think these activities will continue going forward. 21_21 DESIGN SIGHT is the view point of all people focused on design, and a venue for sharing feelings.
Naoto Fukasawa
Noriko Kawakami
Journalist, 21_21 DESIGN SIGHT Associate Director
Worked in Editorial Department of AXIS design Journal, and since 1994, freelance design journalist. Curatorial advisor for London Design Biennale 2016, Guest Curator for Japon Japonismes: Objets inspirés, 1867-2018, 2019, Musée des Arts Décoratifs, Paris, and Associate Director of 21_21 DESIGN SIGHT. Also serves as Guest Professor in Department of Industrial, Interior and Craft Design, and concurrently as Lecturer in Department of Scenography, Display and Fashion Design, Musashino Art University.
We started our preparations for the opening of 21_21 DESIGN SIGHT with a blank slate, seeking an approach that was true to who we are. Today, with our journey well under way, we at 21_21 DESIGN SIGHT continue in that same thrilling spirit of trial-and-error, drawing our map as we move forward. Our vision is to engage as many people as possible in viewing and thinking about the world through the lens of design, i.e. Design Sight, and we are profoundly grateful to our many supporters. Because the relationship between design and society is both broad and complex, we are determined more than ever to explore that interplay, convinced of the importance of probing deeper into the things that really matter. Taking a bird's-eye view of our current position, we are planning our route forward with a resolute determination to reach our goal. Our efforts continue, through passionate and determined action, as we enjoy to the fullest the true pleasure of this journey that is design.
Noriko Kawakami