contents
About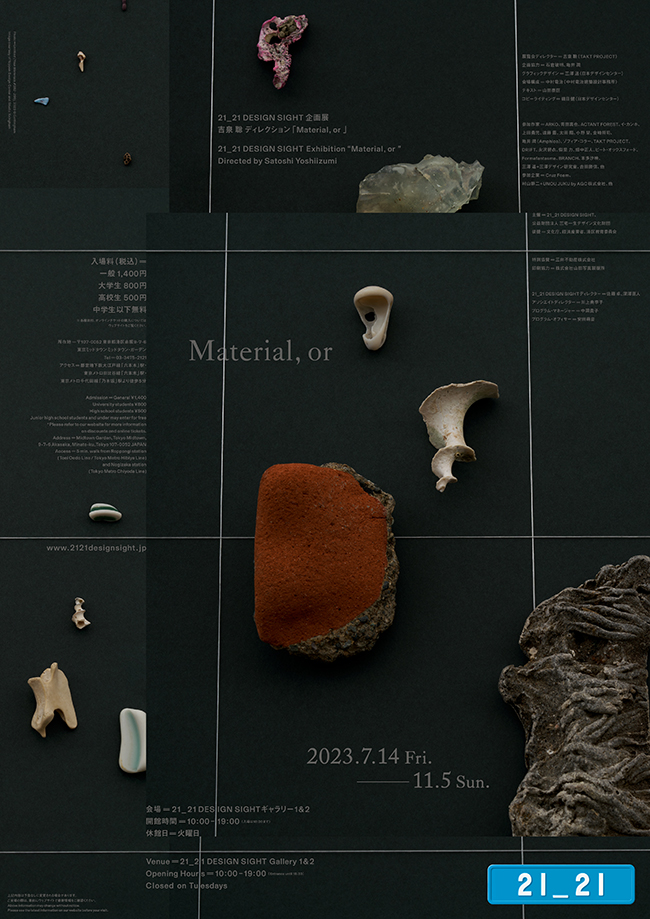 Untitled (Your Materials #63–126), 2023 © Gottingham
Image courtesy of Nippon Design Center and Studio Xxingham
21_21 DESIGN SIGHT will hold the exhibition "Material, or " from 14 July, 2023. The director of this Exhibition is designer Satoshi Yoshiizumi. He is renowned for continuously presenting innovative designs from a unique perspective developed through self-initiated research projects.
In this exhibition, we think that a material, which did not have a particular meaning beforehand, is assigned meaning relating it to a thing and becomes a subject through its relationship to people or other living creatures. At heart, meaning should be a thing that manifests itself through dialogue with materials. In modern society, a small cohort of people are engaged in design, creating meaning, but for most people, it has become difficult to engage in dialogue with materials.
In this modern world that creates so many problems with the environment, we need to engage in creating a deeper, physical dialogue, one that includes the sustainability of the ambient natural and social environments, by peeling away the subject in favor of a primordial sense of the material from which it was derived.
This Exhibition will try to interpret and rediscover our relationship with materials through the endlessly vast story of the earth. We hope this Exhibition will provide a new opportunity to appreciate the world that we weave together through materials.
Date

July 14 (Fri) - November 5 (Sun), 2023

Venue

21_21 DESIGN SIGHT Gallery 1 & 2

Closed

Tuesdays

Time

10:00 - 19:00 (Entrance until 18:30)
Organized by

21_21 DESIGN SIGHT, THE MIYAKE ISSEY FOUNDATION

Special Sponsor

Mitsui Fudosan Co., Ltd.
Exhibition Director

Satoshi Yoshiizumi (TAKT PROJECT)

Planning Associate

Toshiaki Ishikura, Jun Kamei

Graphic Design

Haruka Misawa (Misawa Design Institute, Nippon Design Center)

Space Design

Ryuji Nakamura (Ryuji Nakamura and Associates)

Text

Yoshinao Yamada
21_21 DESIGN SIGHT Directors

Taku Satoh, Naoto Fukasawa

Associate Director

Noriko Kawakami