contents
Directors
21_21 DESIGN SIGHT has three directors, Issey Miyake, Taku Satoh and Naoto Fukasawa, and associate director, Noriko Kawakami. These four are the key planners who consider the themes and details of the activities and exhibitions held at 21_21 DESIGN SIGHT.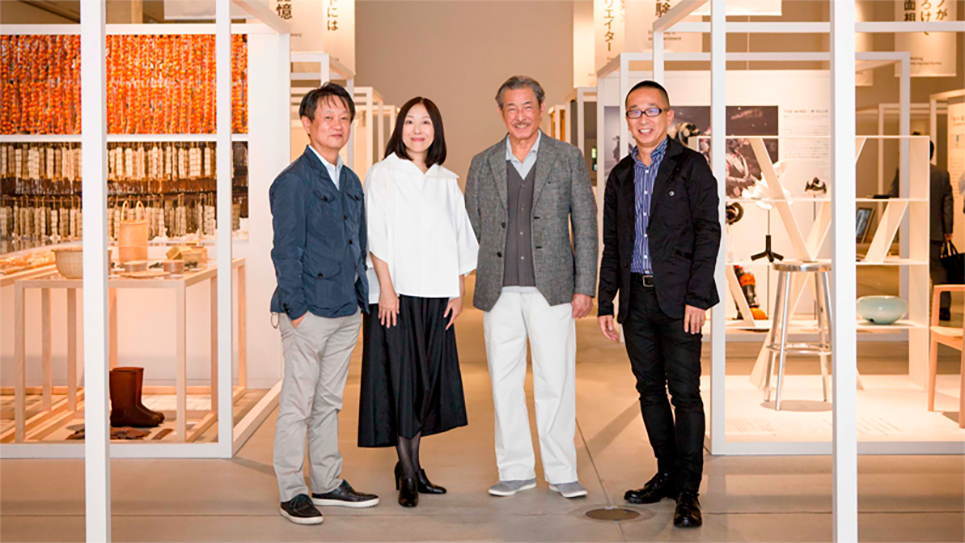 Photo : Yoshiaki Tsutsui
Issey Miyake
Designer
In 1970, Miyake founded the Miyake Design Studio. The fundamental concept of his work is 'A Piece of Cloth.' Started "PLEATS PLEASE ISSEY MIYAKE" in 1993. Launched "A-POC (A Piece Of Cloth)" with Dai Fujiwara and his team in 1998. His continuous research with the Reality Lab. led to the launch of "132 5. ISSEY MIYAKE" and "IN-EI ISSEY MIYAKE" in 2010.
Taku Satoh
Graphic Designer
Satoh completed his master's degree at Tokyo University of the Arts in 1981. In 1984 he founded Taku Satoh Design Office. His work in package design includes "LOTTE XYLITOL gum" and "Meiji Oishii Gyunyu," and his work in graphic design includes "PLEATS PLEASE ISSEY MIYAKE" and the logos of the 21st Century Museum of Contemporary Art, Kanazawa and the National Museum of Nature and Science. He is also the art director for NHK Educational Channel programs, "Nihongo de Asobo" and the general director for "Design Ah!."
Naoto Fukasawa
Product Designer
Fukasawa graduated from Tama Art University in 1980. After working for IDEO's San Francisco and Tokyo offices, he established Naoto Fukasawa Design in 2003 acting as a designer and a consultant for companies, both domestic and overseas. Professor of Department of Integrated Design, Tama Art University. He has been the fifth director of the Japan Folk Crafts Museum since 2012.
Noriko Kawakami
Journalist
After being an editor for the design magazine "AXIS," Kawakami participated in Italy-Japan design projects at the Domus Academy Research Center as an External Editorial Director. She has authored such books as Realising Design (TOTO Shuppan) and edited such as Tendo Mokko (Bijutsu Shuppan-Sha). She also has been engaged in design exhibitions including "London Design Biennale 2016" as a Curetorial Advisor for Japan official participation.