About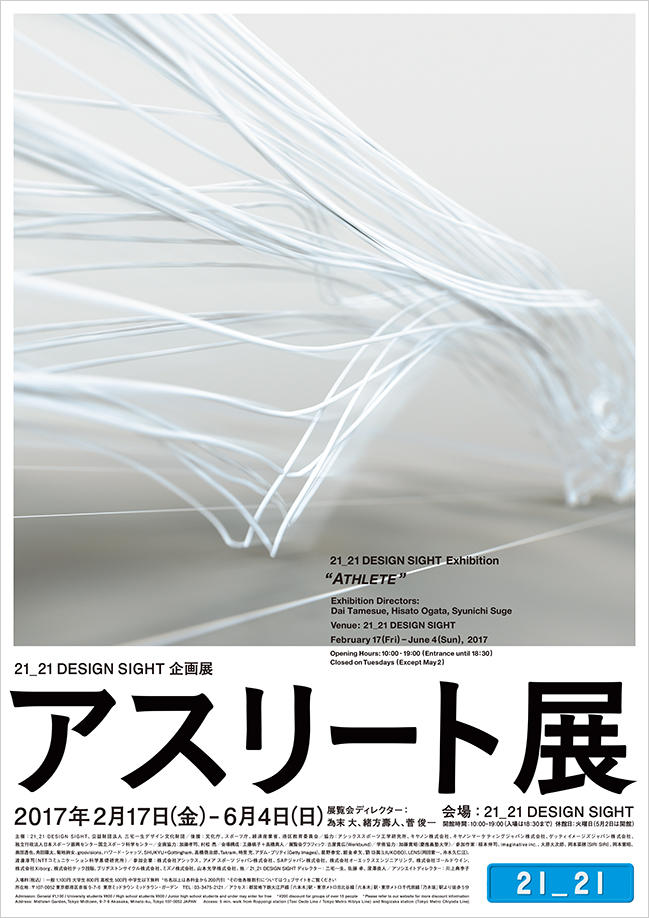 21_21 DESIGN SIGHT will hold an exhibition "ATHLETE" from February 17, 2017.
Athletes... they are constantly training, and through trial and error, pushing and exceeding their own limits. The dynamic, superhuman performances of athletes, which are born of numerous efforts and a continual challenge to themselves, stirs the hearts of all those who witness them. The sincere and pure struggle of athletes offers many hidden lessons to people not only in the realm of sports, but in all sorts of fields of professions.
Each and every action that we take unconsciously in our daily lives entails a series of processes of "reacting, thinking, and acting" that is accomplished by networks of physiological, mental, and environmental perceptions/sensors in our bodies that interact with and affect each other. Through daily training, athletes not only enhance their physical abilities; they also sharpen the sensitivity of these sensors to their limits, thereby becoming able to notice subtle changes in their own bodies. In turn, it allows them to adapt and get closer, to the attainment of the moment in which they are able to realize their potential to its fullest. Furthermore, amidst major changes in the training, mental support, data analysis, the constantly evolving sports gear, and other factors that support the performance of athletes, they try to blend and incorporate those diverse elements to achieve even higher goals.
In this exhibition, in addition to showcasing the movements and characteristics of the bodies of athletes through video footage and photographs, we explore the experience of controlling sensation of the body and mind, the latest technologies to analyze data as it relates to tactics, and the sports gear and other equipment that acts as an extension of the human body. We will give visitors a sense of the diverse elements that go into making a person an athlete, and decipher the human potential from a design perspective.
We have invited three exhibition directors: Dai Tamesue, a former top athlete who has been involved with many activities; Hisato Ogata, a design engineer; and Syunichi Suge, researcher and filmmaker. With participating creators active in a wide variety of fields, as well as various companies and organizations, the exhibition will allow you to experience the pulse and exhilaration of athletes as they aim for new heights.
Date:

February 17 (Fri.) - June 4 (Sun.), 2017

Closed:

Tuesdays (Except May 2)

Time:

10:00 - 19:00(Entrance until 18:30)

Admission:

General ¥1,100 / University Student ¥800 / High School Student ¥500
Junior High School Student and under may enter for free
*¥200 discount for a group of over 15 people
*With a certification of disability, admission is free as well as that of an accompanying care-giver.
Click here for more discount information
Organized by:

21_21 DESIGN SIGHT, THE MIYAKE ISSEY FOUNDATION

In association with:

Agency of Cultural Affairs; Japan Sports Agency; Ministry of Economy, Trade and Industry; MINATO CITY BOARD OF EDUCATION

Supported by:

ASICS Institute of Sport Science, Canon Inc., Canon Marketing Japan Inc., Getty Images Japan K.K., JAPAN SPORT COUNCIL Japan Institute of Sports Sciences
Exhibition Directors:

Dai Tamesue, Hisato Ogata, Syunichi Suge

Planning Associates:

Takashi Kato, Ryo Muramatsu

Space Design:

Momoko Kudo + Masato Takahashi

Graphic Design:

Takahiro Furuya (Werkbund)

Academic Adviser:

Takaaki Kato (Keio University)
Participating Creators:

Shinji Inamoto, imaginative inc., Daijiro Ohara, Naho Okamoto(SIRI SIRI), Noriaki Okamoto, Yukiya Okuda, Yota Kakuda, Ayame Kikuchi, groovisions, Howard Schatz, SHUKYU+Gottingham, Keijiro Takahashi, Takram, Mitsuru Tokisato, Adam Pretty (Getty Images), Yasuhiro Hoshino, Takuya Hosogane, Liu Gongzhen (LIUKOBO), LENS (Kenichi Okada + Kunie Hiyamizu), Junji Watanabe (NTT Communication Science Laboratories)
Participating Corporations:

ASICS Corporation, Amer Sports Japan Inc., SAP Japan Co., Ltd., OX ENGINEERING Co., Ltd., GOLDWIN INC., Xiborg Co., Ltd., Tec Gihan Co., Ltd., NISSIN MEDICAL INDUSTRIES CO., LTD., Bridgestone Cycle Co., Ltd., MIZUNO Corporation, Yamamoto Kogaku Co., Ltd.,