contents
Profile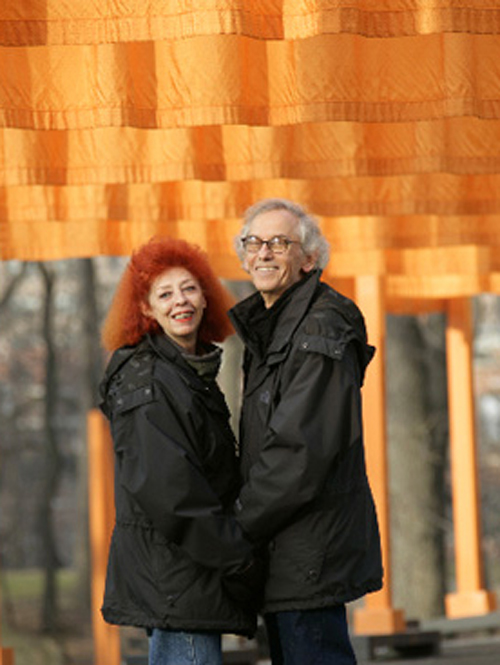 Christo and Jeanne-Claude
Christo was born in the town of Gabrovo, Bulgaria, June 13, 1935. Jeanne-Claude was born in Casablanca, Morocco to French parents on the same date. Christo left his home country in the middle of his study at the National Academy of Arts in Sofia, after short stays in Plague, Vienna and Geneva arrived in Paris as a refugee in 1958. He met Jeanne-Claude in the autumn of the same year, after which they began collaborating in creating unique works of art. In 1961 they began temporary, outdoor site-specific art projects like the Dockside Packages at Cologne Harbor in Germany, and the Iron Curtain- Wall of Oil Barrels in Paris the following year.
They moved to New York City in 1964. In later projects they often used fabric to transform urban and rural scenery, as exemplified in "The Valley Curtain, Rifle, Colorado, 1970-72," "The Pont-Neuf Wrapped, Paris, 1975-85," and "The Umbrellas, Japan-USA, 1984-91," "The Gates, Central Park, New York City, 1979- 2005." In spite of the sudden death of Jeanne-Claude in 2009, Christo continue to devote himself to the completion of the projects. In 2013 he created large scale indoor installation "The Big Air Package, Gasometer Oberhausen, Germany, 2010-13," in 2016 realized "The Floating Piers, Lake Iseo, Italy, 2014-16." He is now working on "The Mastaba Project for the United Arab Emirates," which he and Jeanne-Claude started in 1977.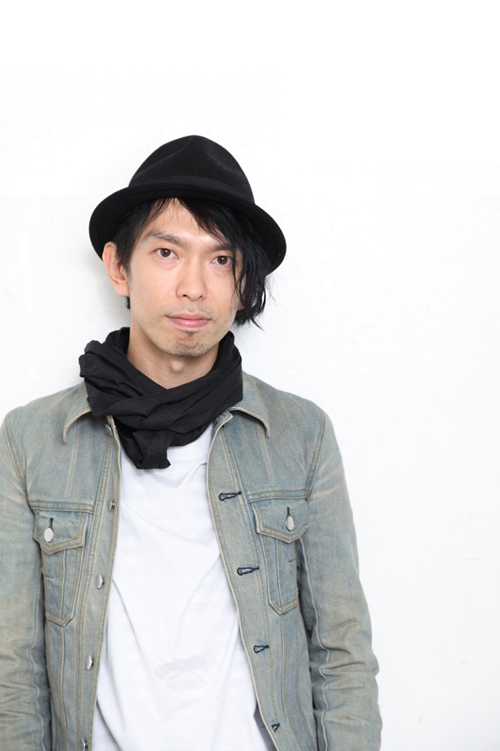 Junya Ishigami
Born in Kanagawa Prefecture in 1974. After acquiring his master's degree in architecture and planning at Tokyo National University of Fine Arts and Music and a short stint working with Sejima and Nishizawa Associates, he established his own firm in 2004, junya.ishigami+associates. His major works include a design for the Kanagawa Institute of Technology Workshop (KAIT).
Ishigami was the representative for the Japanese pavilion at the 11th Venice Architecture Biennale in 2008, and in 2010, he held several solo exhibitions, one of which was held at the Toyota Municipal Museum of Art entitled Another Scale of Architecture. He won the Golden Lion for Best Project in 2010 at the 12th Venice Architecture Biennale (Design Exhibition Department). He has also won numerous other prizes such as the Mainichi Design Award.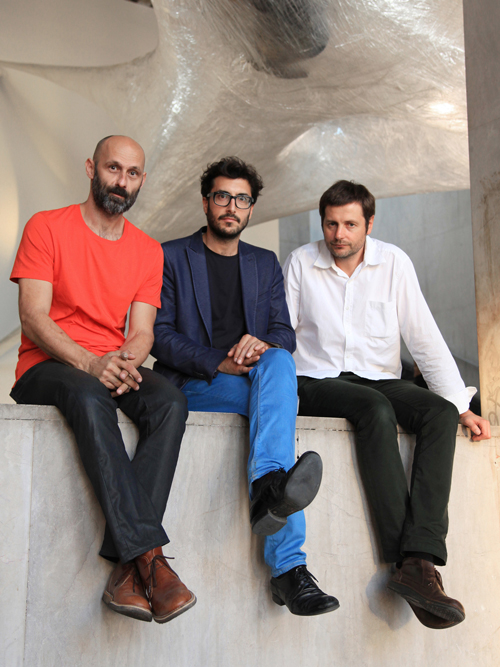 Numen/For Use
Numen/For Use is a collective working in the fields of scenography, industrial and spatial design and conceptual art. The group first formed in 1998 as a collaborative effort of industrial designers Sven Jonke, Christoph Katzler and Nikola Radeljković under the banner For Use. In 1999, they establish Numen as a collective identity covering all projects actualised outside the sphere of industrial design. From 2004 onwards, after setting up a large scale site- specific project for the production of "Inferno" in the National Centre for Drama in Madrid, Numen/For Use become intensely involved with scenography. Further realisations in theatres across Europe ensue. Since 2008, the collective turns its focus towards configuring objects and concepts without a predefined function, an activity resulting in the more hybrid and experimental works such as the Numen-Light series and Tape, Net, Tuft, String, Tube.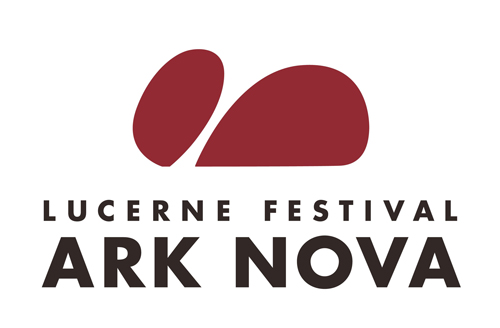 LUCERNE FESTIVAL ARK NOVA
Ark Nova (meaning "a new arc" in Latin), an "arc of music," was held for three years since 2013 in the three cities of Matsushima, Sendai and Fukushima. The spirit of friendship extended from Lucerne Festival, a classical music festival in the wake of the Great East Japan Earthquake took shape in the form of a movable concert hall that can be transported by placing it on top of a container truck, and a music festival held inside the hall. Various events were held inside this hall seating approximately 500, including concerts mostly of classical music, and educational programs.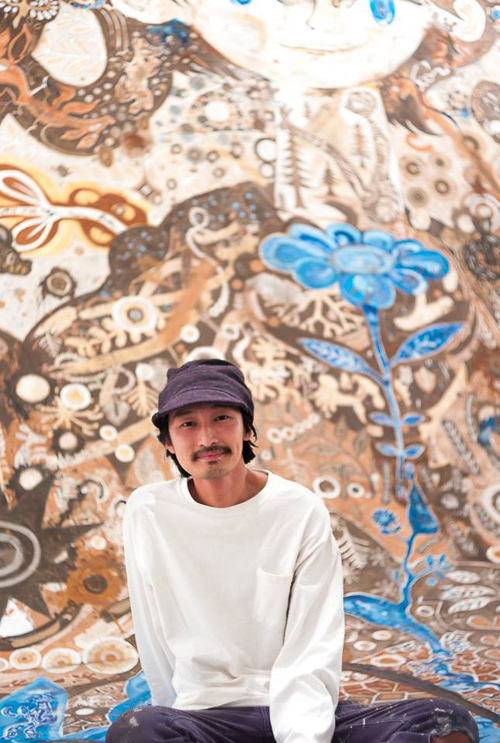 Courtesy of URANO,
Photo by Yosuke Takeda
Yusuke Asai
Born in Tokyo in 1981. He draws a form for backing an image of the natural world propagated by an external force in works freely whether indoors or outdoors by using various locations and materials on his hand. "Masking Plants" drawn on masking tape with water resistant markers, earth paintings of animals and plants painted with soil and water, and "White Lines that Became Plants" created by burning the sheet material conventionally used to paint lines on asphalt roads. Current major works include: "Seeds of Imagination Journeys of Soil" (2015 to 2016 at the Hakone Open Air Museum); "All Living Things" (2016 at the Vangi Sculpture Garden Museum); "Setouchi Triennale" (2013 to 2016 in Inujima); and a solo exhibition in Houston entitled, "yamatane" (2014 at the Rice Gallery).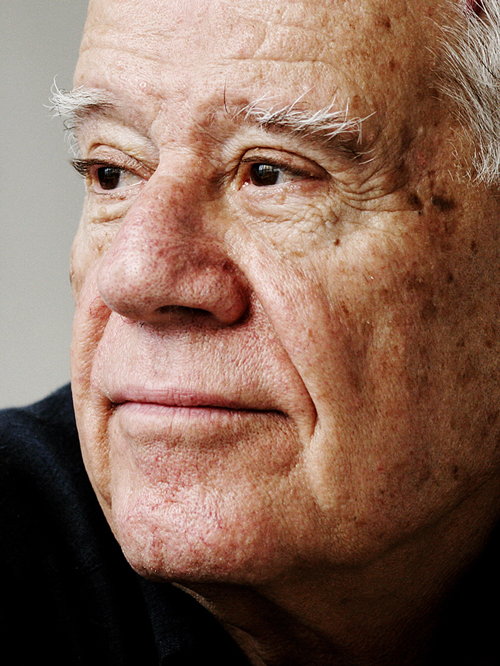 Dani Karavan
Born in Tel Aviv in 1930, Karavan designed stage sets for theatre, dance and opera and worked with the Bat Sheva Dance Company, Martha Graham and Gian Carlo Menotti from the early sixties. At the same time, he created a stone bas- relief in the assembly hall of the Knesset in Jerusalem and created his first site specific environmental sculpture - the Negev Monument near Be'er Sheba, which became a landmark in environmental art and site specific sculpture. Since then, he has been commissioned to create environmental sculptures in Israel, Europe, United States, Korea, Japan...etc. He has exhibited in numerous museums around the world and is a recipient of prestigious international awards, such as the Israel Prize for sculpture and the Praemium Imperiale - the Nobel Prize for the Arts, Japan. He lives and works in Tel-Aviv and Paris.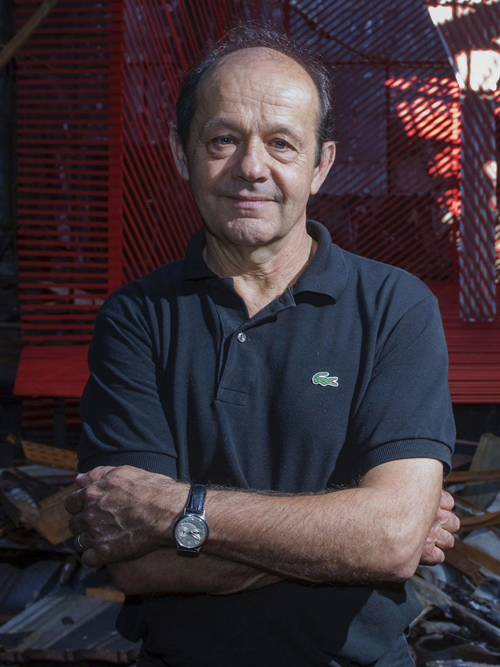 © Georges Rousse
Georges Rousse
Combining painting, architecture and photography, Georges Rousse converts abandoned spaces into spiritual visions of color and shape in order to realize a final image conceived with regard to the specific perspective of the camera. Through his large-size photographs, he is inviting us to think about what an angle of vision is, what illusion is, what perception is. Since his first exhibition in 1981, Rousse has continued creating his one-of-a-kind installations proposing his vision of spaces and reading of architectures, from the least significant to the most prestigious. His work is recognized unanimously and exhibited worldwide.
Major player on the art scene for 30 years, Georges Rousse has received prestigious awards (International Center Photography Prize, Grand Prix National de la Photographie) and participated in many solo and group exhibitions all over the world.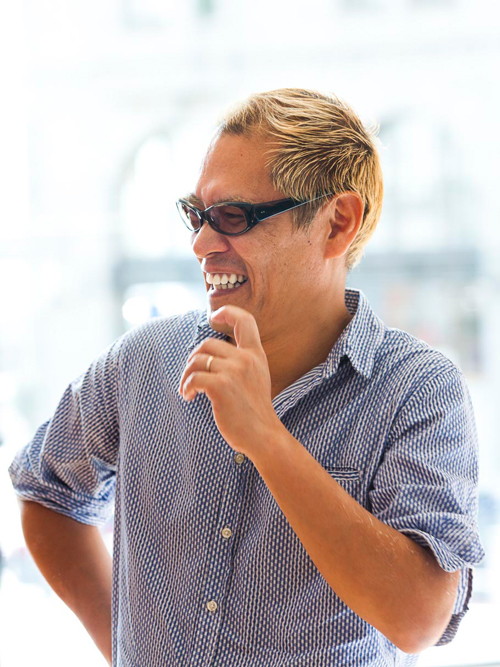 Tatzu Nishi
Born in Nagoya in 1960. Tatzu has been working mainly in Europe since 1997. He is known for producing bold and adventurous projects that involve people with the urban landscape as the stages, such as constructing rooms by incorporating outdoor monuments and street lights, etc., and turning them into living rooms. Some of his works actually operated as a hotel. He currently works in Berlin and Tokyo. Some of his major works include the "Merlion Hotel," a hotel project in 2011, featuring Singapore's Merlion statue; "Discovering Columbus," a project in 2012, that employed the monument of Columbus in Manhattan, New York City, and "So I only want to love yours," an installation set up inside the Hermitage Museum in Russia in 2014.